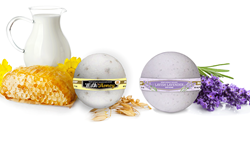 Developed specifically for our customers in mind, our handcrafted GoGreen Hemp Bath Bomb gives you an opportunity to indulge in a soothing experience and will leave you feeling relieved and calm, promoting a relaxed mind and body, states Romas Marcinkevicius, President of GoGreen Hemp.
Fort Mill, South Carolina (PRWEB) July 09, 2018
GoGreen Hemp ™ an innovative provider of one of the most affordable CBD product lines on the market has just released their brand new CBD bath bombs in two relaxing and luxurious scents. Cannabidiol, better known as CBD is the non-intoxicating hemp extract of the hemp plant, which has been linked to many positive health results in various preliminary studies. These cannabinoid bath bombs are filled with 40mg of water soluble CBD powder and scented perfectly to create a soothing experience. Not only can the product provide relief but it is a perfect addition to your daytime or nighttime routine, by helping you gain all around relaxation and bring your endocannabinoid system back to homeostasis.
GoGreen Hemp is releasing two bath bomb scents scented with notes of lavender for the first one and oatmeal, milk and honey for the second option. The ingredients are straightforward, made from natural ingredients and speak for themselves in regards to their aiding properties. Each bath bomb is filled with 40mg of CBD, handmade and is 5oz total in size running at only $10.99 per bath bomb. GoGreen Hemp is constantly adding to their product line to provide variety as well as high quality, affordable and competitive products for their customer.
Bath bombs are very helpful when trying to achieve healthy looking skin, and CBD bath bombs not only allow you to have clean and strong skin but they also provide the healing benefits of CBD. It is critical to look at the ingredients for bath bombs because the only way you are able to benefit from using a bath bomb is if the ingredients are natural and help with relaxation and healing. Both GoGreen Hemp CBD bath bombs have Epson salt as one of their primary ingredients which aids in relaxing and loosening up tense muscles and aching joints. These bath bombs are great for athletes or those who put their bodies through rigorous tests on the daily. Epson salt is also very helpful in drawing toxins from your skin and helps promote healthier looking skin by cleaning, refreshing, repairing and strengthening your skin. The GoGreen Hemp Milk N' Honey and Lavish Lavender also include coconut oil that allows the body to unwind and release toxins within the body. Last but not least the bath bombs include the 40mg of full spectrum water soluble CBD in each bath bomb that allows for even more benefits to ease pain and soreness as well with the side effects of skin issues such as eczema.
While the actual ingredients are crucial for the results gained by enjoying a CBD bath bomb, the scents and overall aroma are just as important and chosen specifically for certain results. The GoGreen Hemp Oatmeal, Milk & Honey Bath Bomb embodies the wonderful fresh scent of Hawthorne, with nuances of creamy French vanilla, soy milk and a base note of nutty almond. On the other hand the GoGreen Hemp Lavender Bath Bomb is packed with lavender essential oils, soothing Epsom salts, and nourishing coconut oil, this soothing bath bomb will calm and comfort from the inside out. The soothing scent of lavender helps with nerves to ease any anxiety as well as helps with respiratory problems while the Milk 'N Honey bath bomb helps with relaxation as well. Overall the GoGreen Hemp bath bombs are filled with high quality natural ingredients, aid in relaxation and pain relief and are available at competitive pricing.
Go Green. Save Green.
About Go Green Hemp™
Founded in 2016, GoGreen Hemp™ is a family owned and operated company and the exclusive provider of GoGreen Hemp Products ™. Under the chief principles of providing great customer service and a superior product at some of the most affordable prices on the market. Our goal is to educate and serve our customers about the incredible powers of CBD and how it has the potential to change the world around us. We take pride in informing our customers about the various choices they have when using CBD and how CBD can potentially supplement their daily regimen. For more information, please visit https://www.gogreenhemp.com