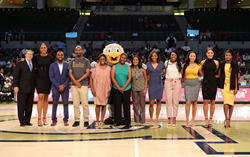 "We need diversity in sports media because we need diversity in media in general. Girls that look like me me need to be able to see someone they aspire to be." - Shanteona Keys, 2018 RMS class participant
ATLANTA (PRWEB) July 12, 2018
Rising Media Stars announced its inaugural class of five up-and-coming sportscasters at a kickoff event on July 8 at Georgia Tech's McCamish Pavilion. Founded by basketball analyst LaChina Robinson and sports media producer Kevin Nixon in 2016, Rising Media Stars(RMS) plans to diversify the sports media workforce by providing women of color with the tools to jump start their careers. "The number of women of color in sports broadcasting is so small that we can't find statistics of how many are actively working in the industry. Kevin and I had both been working independently with young women for many years by helping them gain experience and giving them guidance. It gives us much joy to be able to combine forces and use our resources to create a pipeline of young women that will be equipped, supported, and encouraged," said Robinson.
The 2018 class will participate in a year-long program that includes on-camera experience at professional sporting events, classroom sessions, and one-on-one mentoring with major influencers in the sports industry. At the end of the program, each participant will receive a reel of work with samples from their RMS experiences for them to showcase to prospective employers.
The women selected for the 2018 class are:

To enhance the experience of each participant, Robinson and Nixon named 11 members to the Board of Directors for the organization in early 2018. The RMS board is comprised of sports executives, producers, journalists, and on-air talent, and will guide the development of the program, serve as mentors, and pull in outside resources. "Deciding to join the Rising Media Stars' inaugural board was a no-brainer for me," said Nzinga Shaw, board member and Chief Diversity and Inclusion Officer for the Atlanta Hawks. "The vision that has been outlined for this organization is so compelling and very attainable. Having the ability to give a voice to the voiceless so that they can finally be heard provides sustainable impact on our industry and in the world."
The Rising Media Stars' Board of Directors include:
-Beth Chappell, ESPN
-Bob Rathbun, Fox Sports South
-Christopher Daniel, Clark Atlanta University
-Michelle Jinks, Friendship Development Corporation
-Morgan Shaw Parker, Atlanta Falcons
-Dr. Nekeshia Hammond, Hammond Psychology and Associates
-Nzinga Shaw, Atlanta Hawks
-Rashan Ali, Sister Circle TV
-Rolanda Gaines, Fox Sports South
-Sara Kate Noftsinger, Atlanta United
-Theresa Wenzel, Atlanta Dream
For more information about Rising Media Stars, please visit http://www.risingmediastars.com and follow the organization on Facebook, Twitter, and Instagram.