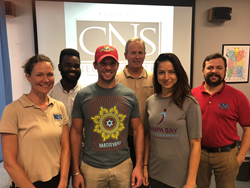 "This is a special opportunity for our students to learn and make a valuable contribution to people in need" - Randall Clark, President
CLEARWATER, Fla. (PRWEB) July 11, 2018
In a first of its kind partnership, students and faculty of the Center for Neurosomatic Studies (CNS) will join physicians from the Hillsborough County Osteopathic Medical Society (HCOM) and students from the Lake Erie College of Osteopathic Medicine (LECOM) on an international medical mission trip to the remote town of Treasure Bay, Jamaica. Returning for the 10th year in 2018, physicians and medical students will make the trip down to Jamaica and the three-hour bus ride (not for the faint of heart) to Treasure Beach. The residents of this beautiful town live over an hour car ride to the closest medical care and most of them do not have access to a vehicle. Typically, they walk three to five miles to receive treatment at this annual free clinic. This collaborative effort to help this group of underserved patients is a unique combination of healthcare practices and will serve as a model for interdisciplinary education and outreach.
CNS President, Randall Clark, LMT, CNST, will be leading the team of Neurosomatic therapists along with the team of Osteopathic doctors and students, lead by Dr. Miranda Giusti, DO. The clinic is open to residents of the Treasure Beach community July 16 - 20 and is provided free of charge to the patients. Neurosomatic therapy (NST), conducted by CNS students to treat soft tissue and musculoskeletal issues, will be provided along side medical specialties including ob/gyn, dermatology, osteopathic manipulation, internal medicine, cardiology, psychology, and family physicians.
CNS students include: Duchein Carwell, Roxanne Jafari, Heather Longoria and Brennan Rhodes.
Additional CNS Faculty: Frank Mazzella – LMT, CNS.
About the Center for Neurosomatic Studies
Unlike any massage school in the United States, CNS is a robust educational experience that focuses on creating mastery in the field of NST. This therapy is a full body approach to corrective soft tissue therapy that seeks to eliminate chronic pain, speed injury recovery and promote optimal performance. Focused on the soft tissues of the body (muscle, connective tissue, organs, etc), NST fills a gap in standard western medical care and is often successful where the usual treatments have failed.
Founded in 2012 by Randall Clark and Kevin Wade, CNS is a privately held LLC and is a post-secondary school licensed by the State of Florida Commission on Independent Education. CNS is also accredited by the Commission on Massage Therapy Accreditation, approved for tuition funding through the US Dept. of Education Title IV and US Department of Veterans Affairs.
Upon completing the 18 month, 1278 hour diploma program, students are qualified to sit for the national Massage and Bodywork Licensing Exam, the National Academy of Sports Medicine Certified Personal Trainer exam and receive the designation of Certified Neurosomatic Specialist.
About the Jamaica Clinic
The clinic set-up is completed on Sunday evening prior to opening on Monday morning at 9:00 A.M. Patients start lining up outside the clinic at 7:00 A.M. By the time the clinic opens its doors, there are about fifty people waiting for care. The average patient walks three to five miles to reach the clinic, and the same distance to return home. Only about five percent come by automobiles. Once they arrive, they often have to wait two or three hours before seeing the doctor.
The clinic consists of five treatment rooms, waiting room, and kitchen. Patients are assigned based on their health needs and issues. Each day the women's club provides a wonderful lunch in a picnic setting outside the clinic under the trees.
During the ten years of the clinic it has treated over 3,000 patients, provided learning and training opportunities for one hundred and forty medical students, has had forty physicians treat the patients, along with six nurses and numerous aides. Each team member is enriched by this special experience.