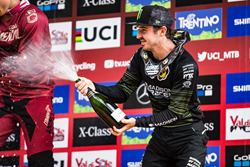 It has been really good, and I have enjoyed every minute of it except for the treacherous qualifying run. Everything else has been really good this week and I'm back on the right track to try and carry this result and ride the wave - Danny Hart
VAL DI SOLE, Italy (PRWEB) July 09, 2018
Monster Energy's Danny Hart (GBR) took home bronze this weekend at the 5th stop of the UCI Mountain Bike World Cup in Val Di Sole, Italy.
Fellow Monster Energy teammate Mark Wallace (CAN) took home a respective 6th place, just off of the podium, while Australia's Troy Brosnan was 10th and Connor Fearon was 19th.
The "Black Snake," race course slithers its way down the mountainside into a picture-esque mountain valley, but is no vacation for the racers. Incredibly steep, the high-speed track is littered with a network of slick, polished roots that hide under a layer of fluffy organic dirt. As soon as moisture hits the dirt it is transformed into mud that is as slippery as ice. Unfortunately for racers, chaos ensued on qualifying day as on and off storms brought out the slime and tossed more than one rider to the ground. Hart managed to qualify in 4th place, salvaging some precious overall points going into race day.
Race day dawned sunny and hot, and by the time the lite men dropped, the track was baked dry in the open, but the shade still held a few surprise slick spots. Hart was happy with his ride to the podium.
"It has been really good, and I have enjoyed every minute of it except for the treacherous qualifying run," said Hart. Everything else has been really good this week and I'm back on the right track to try and carry this result and ride the wave. Next week is another good track. You just have to push it these days – it's tough. I'm the oldest on the podium this week and I'm only 26! I've got to just keep carrying on – onwards and upwards."
With three races left on the World Cup calendar, the overall standings look great for Monster Energy's downhill athletes. Brosnan leads the charge in 3rd place, while Hart is currently in 5th, with only 40 points separating 2nd from 5th. Fearon maintains his 11th place overall after the weekend and Wallace slips slightly ahead into 10th. Brendan Fairclough(GBR) is in 30th place after a tough race weekend.
Up next riders will compete in Vallnord, Andorra July 14-15.
Download photos for editorial use.
For more on Hart, Wallace, Brosnan, Fearon, Fairclough and the rest of the Monster Energy team visit monsterenergy.com and make sure to follow Monster Energy's Facebook, Instagram & Twitter for exclusive updates.
About Monster Energy: Based in Corona, California, Monster Energy is the leading marketer and distributor of energy drinks and alternative beverages. Refusing to acknowledge the traditional, Monster Energy supports the scene and sport. Whether motocross, off-road, NASCAR, MMA, BMX, surf, snowboard, ski, skateboard, or the rock and roll lifestyle, Monster Energy is a brand that believes in authenticity and the core of what its sports, athletes and musicians represent. More than a drink, it's the way of life lived by athletes, sports, bands, believers and fans. See more about Monster Energy including all of its drinks at http://www.monsterenergy.com.