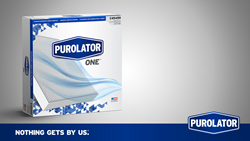 RALEIGH, N.C. (PRWEB) July 11, 2018
Purolator has released a series of educational videos to inform do-it-yourself (DIY) automotive enthusiasts on the superior features and benefits offered by PurolatorONE™ air and cabin air filters, along with PurolatorBOSS™ premium oil filters. These videos also offer advice on the importance of changing filters on a regular basis.
These new educational videos are available to watch on Purolator's YouTube
and Facebook channels.
"As the manufacturer, we aim to help our automotive retail shop customers educate drivers about the importance of regular filter replacement in order to increase vehicle performance and extend engine life," said Tina Davis, senior marketing manager of brand and communications at MANN+HUMMEL Purolator Filters LLC. "These videos emphasize that message, and serve as a resource to help DIYers make confident filter purchase decisions."
Purolator's full suite of DIY resources includes a comprehensive product catalog, a Competitive Interchange and Buyer's Guide, product brochures, Purolator brand videos, and a series of installation videos that offer a step-by-step guide on how to change your own filter.
Purolator Products Offer Superior Performance and Protection
PurolatorONE air filters help to protect engines from premature wear, improve acceleration, and boost overall engine efficiency. They are made from multi-fiber, high density media to protect against dust, dirt, soot, and other damaging debris.
Designed to encourage better airflow and make your drive more pleasant, PurolatorONE cabin air filters trap harmful airborne contaminants. They also contribute to improved HVAC and defroster performance.
With a double-helix metal center tube for optimal oil flow, PurolatorBOSS premium oil filters also feature heavy duty BOSS Steel Casing™ for greater durability to withstand extreme pressure. A PuroSEAL™ gasket helps to prevent oil leaks for extended use, and SmartFUSION technology delivers maximum protection up to 15,000 miles.
About Purolator
Purolator is an innovator of automotive filtration products for the aftermarket, manufactured to the highest standard by American workers in Fayetteville, N.C. Trusted by professional automotive technicians and do-it-yourself consumers across North America, the Purolator product line includes oil, air, cabin air and fuel filters. An industry pioneer since inventing the first oil filter in 1923, Purolator is backed by an internal team of forward-thinking engineers and countless filtration patents. The company's mission to deliver solutions to support the improved performance of advanced engine and oil technologies reinforces a renewed brand promise – "Nothing Gets By Us.™" For more information, visit http://www.pureoil.com.
About MANN+HUMMEL
MANN+HUMMEL is a leading global expert for filtration solutions. The company group with its headquarters in Ludwigsburg, Germany, develops solutions for motor cars, industrial applications, clean air in interior spaces and the sustainable use of water. In 2016 the group achieved sales of approximately 3.5 billion euros worldwide with more than 20,000 employees at more than 80 locations. The products manufactured by the group include air cleaner systems, intake manifold systems, liquid filter systems, plastic components, filter media, cabin filters, industrial filters and membrane filters.
Further information about MANN+HUMMEL is available at http://www.mann-hummel.com