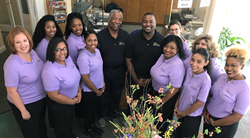 Unlike orthodontics with brackets and wires, each ClearCorrect aligner can be removed for eating and oral hygiene.
JACKSON, Miss. (PRWEB) July 11, 2018
Well-known local dentists, Drs. Jonathan Nash and Kenneth Nash, are proud to offer patients straighter "dream" smiles with ClearCorrect clear braces in Jackson, MS. ClearCorrect offer the benefits of the latest orthodontic technology at about the same cost as traditional wire and bracket braces.
The ClearCorrect system focuses on moving the teeth systematically using clear aligners specially made to fit over the natural teeth. Unlike orthodontics with brackets and wires, each ClearCorrect aligner can be removed for eating and oral hygiene. For this reason, many patients are able to maintain proper oral health during treatment and prefer the comfort of ClearCorrect to other methods of tooth straightening.
In addition to being removable, ClearCorrect also offers a discreet, low-profile way for teens and adults to move their teeth without others knowing. Many patients who choose these types of clear braces in Jackson, MS, appreciate being able to finally fix overbites, underbites, crowding, gaps and other common cosmetic and functional tooth issues without the need for metal braces.
Orthodontics and cosmetic dentistry have blossomed over the past few generations as more individuals strive to perfect the look and function of their teeth. When aligned, teeth not only present a more even appearance, but they lower the risk of problems such as developing gum disease, experiencing gum recession, or losing natural teeth to decay.
Patients interested in discovering their candidacy for clear braces in Jackson, MS can contact Nash Family Dentistry at 601-634-1812 and take the first step to a straighter, healthier smile.
About the Practice
Nash Family Dentistry is a general practice offering personalized dental care for patients in Vicksburg, MS. Dr. Kenneth Nash, Dr. Jonathan Nash and their team provide patients with the latest in dental technology in a comfortable and welcoming environment. Drs. Nash offer a variety of services including laser dentistry, dental implants, and cosmetic dentistry services, among others. To learn more about the services offered at Nash Family Dentistry please visit the website at http://www.vicksburgdentist.com or call 601-634-1812 to schedule an appointment.