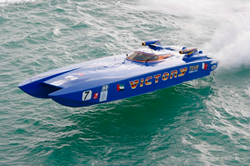 It is a privilege to have the Victory Team returning to the United States, and contracted to race with Super Boat International.
DUBAI, UAE (PRWEB) July 11, 2018
Joining race teams from around the world for two of Superboat International's biggest races of the year is the Dubai-based Victory Team who will be competing in the Superboat Unlimited Class. The team will compete in the final round of the national championships to be held in Clearwater, Florida from September 28-30 then they will race in the Key West World Championship scheduled to take place November 4-11.
The Dubai Victory Team will be sending two of their blue boats to Florida this summer: UAE-3, 42' Victory owned by Luciano Barbati and driven by Salem Ali Salem Aladidi and UAE-33, 40' Victory also owned by Barbati with Eisa Mohamed Abdulrahman Salem Al Ali at the throttle. The driver will be announced soon.
"It is a privilege to have the Victory Team returning to the United States, and contracted to race with Super Boat International," says John Carbonell, Founder and Owner of Super Boat International. "I am looking forward to working with them in Clearwater, at our National Championships, and then again in Key West at our World Championships. We are always thrilled to welcome new racing teams to the SBI family, especially when they are as experienced and prestigious as Victory Team. We're excited to see them in the lineup of our upcoming races."
Victory Team was established in 1988, and claimed its first Class 1 Powerboat Championship in 1993. In 1998, Victory Team began designing and manufacturing its own Emirati Victory Powerboats and state-of-the-art engines at its headquarters in Dubai, UAE.
The team has gone on to win the World Championship for five consecutive years.
For more information about Victory Team, visit their website, victoryteam.ae.
For a complete schedule of Clearwater National Championship and Key West World Championship, visit SuperBoat.com. For further information, call 305-296-6166, or email superboatracing(at)gmail.com. For the complete list of racers, visit the Super Boat International Facebook page, @SuperBoatInternationalOffical.
About Super Boat International
Super Boat International (SBI) is the leading North American professional powerboat organization founded by John Carbonell. Teams from all around the world compete May through October in the National Series Points races and conclude in November for the famous Key West World Championships. SBI produces weeklong race events including entertainment, kilo races and distance records throughout the United States, South America and the Bahamas. Races include the World's fastest Vee-bottom and Catamaran style powerboats, reaching speeds in excess of 180 mph. In the first quarter of both 2018, Super Boat International Offshore Racing television coverage will be nationally broadcasted on NBC Sports showcasing the previous year's World Championship Event.