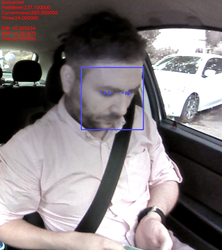 "With the increase in technology over the last decade standard telematics is just not enough anymore, people need to know why something happened. Video Telematics gives us that." stated Sean O'Neil
SANTA BARBARA, Calif. (PRWEB) July 13, 2018
Intelligent Camera Systems and Computer Vision for fleet monitoring by Idrive, Inc is releases a new service, Distracted Driving Detection.
Starting July 15th idrive will make Distracted Driving Detection available to existing video telematics customers with the X2 Camera Systems for an additional $5 a month per vehicle. This new camera feature is available with no new hardware or setup necessary. The dual HD dash camera with video telematics enabled supports both cellular and Wi-Fi downloading. All distracted driver monitoring is done in camera with artificial intelligence. Artificial intelligence allows idrive to constantly improve camera monitoring and detection making idrive fleets some of the safest. Real-Time streaming videos are organized on the company's Global Center platform in an encrypted cloud and based on advanced Artificial Intelligence and Predictive Analytics to help fleet managers effectively oversee fleet vehicles.
This is in addition to the other recent technology breakthroughs idrive has released.

Distracted Driving
Drowsy Driving
Facial Recognition
Accident Detection
Safe Distance Warning
"With the increase in technology over the last decade standard telematics is just not enough anymore, people need to know why something happened. Video Telematics gives us that." stated Sean O'Neil, idrive CEO "For example, when a hard-breaking incident occurs was it because a driver was following too close or did a child run into the road? Only video telematics can give managers those answers. Without video you can only guess and hope that you are being given reliable information. Also verified data creates accurate driver scoring and takes away any discrepancies between drivers and company."
Distracted Driving is now the number one concern for fleet owners. According to the National Highway Traffic Safety Administration (NHTSA) distracted drivers kill approximately 3,477 people and injure 391,000 each year. Fleet owners are financially liable for accidents while drivers are on the clock. Idrive has been in the business for over 10 years and has listened to the industry. "What was needed is an accurate Video Telematics device that can help reduce accidents and make commercial driving safer and more affordable. Because of this need, Idrive created the X-Series video event recorder with Artificial Intelligence," stated Idrive's Vice President, Curt Andrews.
ABOUT Idrive, Inc.:
Idrive, Inc., is a California based vehicle technology company featuring 7 years of artificial intelligence based safety platforms that have made driving safer and fleets smarter with increased efficiency. With one of the world's biggest repository of video intelligence data, Idrive's intelligent systems are comprised of billions of miles of driving data, deep learning and deep industry insight to produce a product that has contributed to saving hundreds of lives by preventing collisions through improved driving behavior. Idrive's experienced team of computer vision focused machine learning Ph.D.'s, data scientists, hardware and software engineers are all dedicated direct team members. Idrive combined technology experts with over 100 years of industry veterans in insurance, truck, bus and other transportation and product development industries. Idrive engineers and manufactures its own products in-house and its award-winning X-Series products are made in America. Idrive currently sells into 19 countries in 5 languages. idriveGlobal.com