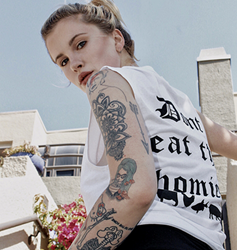 Dedicated to igniting plant-based anarchy in fashion, vegan apparel brand Don't Eat the Homies launches online with its line of 70s punk-style cruelty-free hoodies and tees.
LOS ANGELES (PRWEB) July 11, 2018
"Nothing will benefit human health and increase the chances for survival of life on Earth as much as the evolution to a vegetarian diet." - Albert Einstein, Theoretical Physicist/Genius/Homie-lover
Every year, over 100 million cows, goats, horses, ducks, sheep and more are tortured and slaughtered in the name of food and fashion. Don't Eat the Homies (aka DETH) fights the bloody tide branded shirts with a simple message: when you consume animal products, you're murdering innocent sentient beings -- our homies. Born of compassion by real estate entrepreneur Jordyn Weekly, and Enrique Sanchez-Rivera, the Colombian-born entrepreneur known for launching the successful swimwear company LA ISLA, Don't Eat The Homies is designed to catalyze kindness in thought and habit by reframing meat, leather and other animal product consumption through simple, to the point apparel for vegans, vegetarians and anyone else who hates to hurt or kill animals.
This is a country where industrial farming and Big Agro misinform consumers, manipulate our tastes, and market what benefits their bottom line with no regard for the health of the individual or our ecosystem. Because of their tricks, we've lost connection to the bald fact that animals feel pain as we do, seek comfort as we do, make connection as we do.
Today, the West Coast answers back: Don't Eat the Homies. By calling out DETH we reclaim it. We rebrand veganism as yeah, fine, pushy and playful. Compassionate not mushy. And frankly, dope as hell.
Let's break it down:

Being vegan is kind. Kindness is cool. So are our threads.
To keep it extra real, part of all proceeds goes to The Gentle Barn, an animal sanctuary which gives compassionate care to animals too old, sick or abused to find adoption. (https://www.gentlebarn.org/)
The vegan movement is here to stay and we're only growing. Cloak yourself in DETH. It is its uniform.
As co-founder, Enrique Sanchez-Rivera puts it: "California is a world leader in vegan and vegetarian food and lifestyle. This is where we're planting the seeds of DETH. Soon, we will be everywhere." Watch our flow. Go with the tide. Join the movement.
Don't Eat the Homies' online store for vegan apparel with a playful punk philosophy is open and ready to rip. Based in Venice, California we thumb our noses at Big Agro, die-hard meat eaters and anyone who stands in the way of the inevitable spread of veganism in America. Visit DON'T EAT THE HOMIES and see vegan model Ireland Basinger-Baldwin modeling for their first campaign.
Instagram: @dont.eat.the.homies