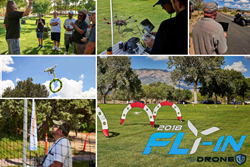 A mission based drone conference takes over the skies of Albuquerque at Balloon Fiesta Park.
ALBUQUERQUE (PRWEB) July 17, 2018
The Drone U Fly-In is the first of its kind. A mission-based conference that is designed to not only teach pilots the latest techniques and skills of flying, but also ensure that participants fly missions to test their skills with practical applications utilizing drones. The 2018 edition of the unique event is set to be held from August 3rd through the 5th, 2018 at the Anderson Abruzzo International Balloon Museum and Balloon Fiesta Park.
Flying drones have become increasingly popular in recent times due to their versatility and convenience. Drones have evolved from toys into tools often deployed in various important activities including security operations and most recently in the field of photogrammetry (drone modeling). With the advancement in technology and the increasing popularity of drones, it has become imperative for pilots to stay abreast of the latest developments in the industry and to keep their flight skills sharp. While other drone conferences have done a good job of teaching on the latest theory and application opportunities, they have done little in the way of practical and hands on flight. This is where the Drone U Fly-In is making a huge difference.
The event is the only Drone Conference that is mission-based, with pilots flying 10 separate missions designed to test their skills on practical applications with drones. The event is organized to provide pilots with real-world experience in operational environments. The uniqueness of the conference comes from the fact that pilots actually fly their drones for the majority of the duration of the conference.
The event is not only educational and informative but also fun, and provides a platform for participants to network and share ideas. All pilots will fly each individual mission and will be competing against fellow drone pilots in a low pressure friendly competition for drones, prizes and the crown of the best pilot.
After 2 days of flying, pilots will be able to attend a plethora of classes including:

How the NTSB utilizes drones for Accident Reconstruction using Photogrammetry – Speaker: Bill English NTSB
How to get extremely accurate drone maps using Pix4d – Speaker: Angad Signh Pix4d
How to conduct search and rescue missions using autonomous searching software – Speaker: P.J. Kirkpatrick Terra Vigilis
The event has become popular in recent times thanks to its flight focused itinerary, with accolades coming from participants and others. "Pilots have called the Drone U Fly-In "Priceless," says Randal Whittinghill.
"Really REALLY hate I can't make it this year. This single experience propelled me into the success I'm enjoying today living the drone life. I showed up last year with less than 5 hours of flight time and fewer than 55 total flights when the 2017 Fly In started. Today, according to my AirData account, I have: 531 flights, nearly 76 hours of flight time, 92 hours of log time, 692 miles flown, 18,700 photos taken, and 255 videos recorded. Being at the 2017 Fly In changed everything for me. I hope it has the same impact on those able to attend this year! Especially new attendees!" says John Bendever.
The 2018 edition of the event comes with two optional add-ons, which will be held one day early on Thursday, August 2nd. The first of the add-ons is the Business Boot Camp that is designed for persons that are currently operating a drone business, regardless of their experience. The second is the Light Painting training, which will be held on the night of August 2nd. The Light Painting training will include instruction on how to do Light Painting, teaching participants how to fly lights on drones and/or light a subject at night, which is one of trending things to do with a drones in real estate.
The 3-day event will provide participants with current knowledge on various drone missions including Crime Scene Accident Reconstruction with Drones, Cell Tower Mapping with Drones, Subject Tracking, Cinematography, Inspections using drones, and 5 other exercises.
Counter-UAS Security Demonstration, The conference will host a demonstration that can autonomously land nefarious drones while whitelisting the good guys. Included in this invite only demonstration will be a showcase on how a mobile no-fly-zone has been created to protect public officials.
Registration for the event is currently going on and if the previous editions of the conference are anything to follow, then tickets to the 2018 edition will sell out soon.
More information about the event and how to sign up for the Drone U Fly-In can be found at http://droneuflyin.com.
Media Contact
Drone U
Paul Aitken
http://droneuflyin.com