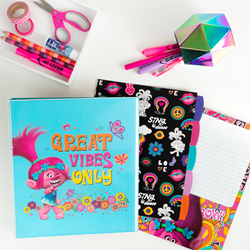 BREA, Calif. (PRWEB) July 12, 2018
Avery Products Corporation, a leading manufacturer of school and office supplies, including binders, dividers, highlighters, labels and more, announced their newest collection of organization products with designs featuring the DreamWorks Trolls. The products are available on avery.com and amazon.com, and for a limited time, consumers can take advantage of Amazon Prime Day deals and get 30% off these Durable View Fashion Binders from July 16th – 17th on Amazon.
The Avery DreamWorks Trolls Collection includes:

Avery DreamWorks Trolls Durable View Fashion Binders with 1" rings in three designs: Great Vibes Only, I Heart the Beat and Peace, Love, Music
Avery DreamWorks Trolls Big Tab™ Fashion Paper Dividers, 5-tab set, with assorted designs
Avery DreamWorks Trolls Folders, 100-sheet capacity, 6-pack set (two each of three different designs)
Avery DreamWorks Trolls Glue Stic™ 6-pack
To learn more about these products and to purchase items, visit the DreamWorks Trolls page on avery.com and amazon.com.
About Avery Products Corporation
Avery Products Corporation is the world's largest supplier of labels, specialty converted media and software solutions to enable short-run digital printing in businesses and homes alongside complementary products sold through distributors and mass market retailers under the Avery® brand. Avery Products Corporation, a division of CCL Industries, is based in Brea, California. For more information about Avery products, visit avery.com.
About CCL Industries
CCL Industries employs more than 20,000 people operating 154 production facilities in 36 countries on 6 continents with corporate offices in Toronto, Canada, and Framingham, Massachusetts. CCL is the world's largest converter of pressure sensitive and extruded film materials for a wide range of decorative, instructional, functional & security applications for government institutions and large global customers in the consumer packaging, healthcare & chemicals, consumer electronic device and automotive markets. Extruded and laminated plastic tubes, folded instructional leaflets, precision decorated and die cut components, electronic displays, polymer bank note substrate and other complementary products and services are sold in parallel to specific end-use markets.
Avery and all other Avery brands, product names and codes are trademarks of CCL Industries, Inc. All other company and product names may be trademarks or service marks of their respective owners.
About Universal Brand Development
Universal Brand Development globally drives expansion of the company's intellectual properties, franchises, characters and stories through innovative physical and digital products, content and consumer experiences. Along with franchise brand management, Universal Brand Development's core businesses include Consumer Products, Games and Digital Platforms, and Live Entertainment based on the company's extensive portfolio of intellectual properties created by Universal Pictures, Illumination Entertainment, DreamWorks Animation, and NBCUniversal cable and television. Universal Brand Development is a business segment of Universal Filmed Entertainment Group, and part of NBCUniversal, a subsidiary of Comcast Corporation. Visit universalbranddevelopment.com for more information.
Media Contact:
Avery Products Corporation
714-674-8500
press(at)avery(dot)com