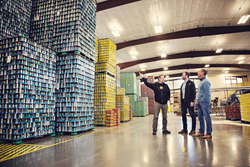 We anticipate strong brands that produce quality craft, stay abreast of craft trends and consumer preferences, have proper cost structures and clean balance sheets, will continue realizing growth. -Luna Capital CEO Kris Axtell.
SANTA FE, N.M. (PRWEB) July 12, 2018
Luna Capital, a Santa Fe-based brokerage and real estate firm with a specialty in brokering funding for craft brewing businesses, analyzes the shift in craft brewing, looking at categories that are critical to understanding what the future holds for this popular industry nationally and in New Mexico.
The definitions for the different segments of the industry have been developed by the Brewers Association (http://www.brewersassociation.org). The industry is segmented in two main categories:
1. Microbrewery – brewery that produces less than 15,000 barrels annually.
2. Regional brewery – production between 15,000 – 6,000,000 barrels.
Per some preliminary research provided by the Brewers Association the industry generally is still growing.
Growth has slowed from what was realized by the sector between 2010 – 2014 where annual volume growth, in barrels, peaked at 18% (for reference, one barrel of beer equates to 31 U.S gallons). For 2017, growth has moderated and has been estimated at 5% for the year. Growth in the segment for 2015, and 2016 was 12% and 6%, respectively.
Despite the slowing growth, nationally, for the sector, nearly 23% of craft breweries realized nearly 23% in growth between 2016 and 2017. Similarly, nearly 12% of breweries grew between 25% and 50% and 13% grew between 10% - 25% between 2016 and 2017. Interestingly, 15% of breweries remained stagnant with limited to no change to top line. These strong growth rates, for the 6,000+ craft breweries in the USA were offset by a few that realized some contraction – 17% of breweries recognized declines of 10% or worse, and 10.3% noted declines of 10% - 1%.
As markets mature, they become more competitive as there are more entrants into segments, and consumers or end market users typically stay stagnant (only a certain percentage of the population consumes beer, and is not growing at the rate new breweries are entering the segment; additionally, while craft consumers support the sector, many still consume brands produced by large international producers, i.e. AB-In Bev, New Belgian, Heineken, etc).
Regional brewers with 15,000+ barrels of production find themselves competing for market share with microbreweries and larger competitors that have far greater resources for marketing and advertising. As such, regional breweries have two distinct sets of competitors with different strategies, while microbreweries are not a threat to larger national/international competitors given the innocuous volumes.
As is the case in other industries, as they mature, weaker enterprises (poor craft quality, fragile consumer following) will be the first to encounter closures. "We anticipate strong brands that produce quality craft, stay abreast of craft trends and consumer preferences, have proper cost structures and clean balance sheets, will continue realizing growth," said CEO Kris Axtell. "Those who do not meet most of these characteristics and are looking to scale will struggle."
Within New Mexico, top brands that are well established are seeing growth of 15% - 40%, and should continue due to local support, regional growth, customer loyalty, and quality craft beer that is abreast of consumer trends.
The craft brewing industry has seen positive growth as a whole. However, as new breweries come online, per brewery-growth has slowed significantly in the last few years, leaving many microbreweries well below their projected growth numbers.
Other shifts in the market include:

On-premise consumption (brewpubs and tasting rooms) is increasing as total beer volume declines.
A shift towards cans (fewer bottles)
A shift toward pilsners and lagers and away from beers with high bitterness or ABV levels. This trend is seen within the IPA category too
Top breweries will continue to open "satellite" locations as they look to focus on quality and create experiences for their fans and patrons.
Craft brewers are adopting the "Certified Independent Craft" seal to differentiate themselves from the brands that have sold to the brewing conglomerates and to help drinkers support independent, local beer.
About Luna Capital: Founded in Santa Fe, New Mexico in 2013, Luna Capital is a proactive and transparent commercial lending advisor providing capital resources and real estate expertise to businesses in the Southwest and nationally. Through careful analysis and planning, Luna becomes an invested long-term partner for their clients, engaging the business on every financial detail by building out customized plans that are then carefully overseen and guided. Luna is an exceptional creative force in an industry not known as such. Their thorough process and relationships with banks, SBA programs, private lenders, private equity and individual sponsors elevates their loan approval rate to nearly 100%. CEO Kris Axtell founded the company after a decade in the banking industry. He was joined by COO and Managing Member Brandon Fitzpatrick, an MAI trained appraiser and qualifying broker, in 2016. For more information about the Luna Capital team and services, visit: http://www.luna.capital.