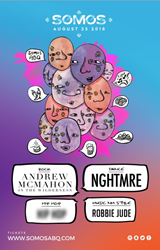 ALBUQUERQUE, N.M. (PRWEB) July 13, 2018
SOMOS ABQ is holding its second annual city-wide festival on Saturday, Aug. 25. The event is bringing four major headliners to Downtown Albuquerque, giving local musicians the opportunity to share the stage with international musical acts.
With that spirit in mind, SOMOS ABQ is announcing the following lineup to the 2018 event:
● Rock Stage - Andrew McMahon in the Wilderness
● Dance Stage - NGHTMRE
● Music NM Style Stage - Robbie Jude
● Hip Hop Stage - TBA
In addition to the four stages, there will be a family stage for performances from local groups. The local talent joining each headliner will be announced once confirmed.
The event will be held from 4 p.m. to 10 p.m. on Saturday, Aug. 25. To make SOMOS ABQ accessible for all, tickets are $10 - $12.50 for advance general admission ($15 day-of), and children ages 12 and under are free. Tickets are on sale at SOMOSABQ.com.
For photos and video from the 2017 event, please contact Danielle Stevens at
danielle@siarza.net or visit bit.ly/somos-media.
About SOMOS ABQ
SOMOS ABQ is a city-wide festival that showcases the very best Albuquerque has to offer, including nonprofits and community organizations, technologists and entrepreneurs, artists and designers, musicians and performers, chefs and brewers, business owners and government.