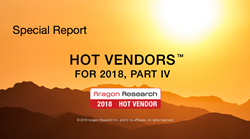 PALO ALTO, Calif. (PRWEB) October 19, 2018
Aragon Research Inc. published its Hot Vendors Part IV today, identifying noteworthy, visionary, and innovative vendors in six markets: Image and Video Analytics, Marketing Automation, Robotic Process Automation, Team Collaboration, UCC, and Workflow and Content Automation.
Providers in each of these reports are helping enterprises automate more of their processes and enable seamless collaboration, and many are doing it by powering their solutions with intelligent technologies. Some of these include the use of conversational AI in team collaboration, predictive and prescriptive analytics in image and video analytics, and pre-trained AI in workflow and content automation.
Jim Lundy, CEO of Aragon Research, said, "To stay competitive in the digital economy, enterprises and their workforces can't afford to waste time on repetitive, manual processes. Leveraging technologies that automate critical processes, powered by intelligence, will enable businesses to get more of their time back and get better insights into what's working well for their customers, partners, and employees, and what's not."
Aragon's Hot Vendors for 2018 will be formally recognized at the firm's annual awards ceremony in Redwood City, California. The awards ceremony also recognizes winners of the Innovation and Women in Technology awards.
Aragon clients can learn more about these providers by reading the Special Report: Aragon Research Hot Vendors for 2018 Part IV.
About Aragon Research
Aragon Research delivers high-impact visual research, consulting, and advisory services to provide enterprises the insight they need to make better technology and strategy decisions. Aragon Research serves business and IT leaders and has a proven team of veteran analysts. For more information, visit https://www.aragonresearch.com/.