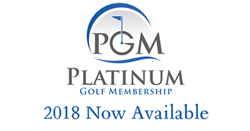 Making golfers happy is what we do!
Myrtle Beach, SC (PRWEB) September 07, 2017
The Platinum Golf Membership team recently released the details for the 2018 Platinum Golf Membership. The membership for 2018 will retail at $159 and will include a $100 gift card that can be redeemed for golf, merchandise, and food and beverage at participating courses. Unlike other similar offerings, this program is available for U.S. and Canadian citizens. For a limited time, the membership is available at the reduced rate of $129 and includes the remainder of 2017 from the date of purchase. This offer is available through December 15, 2017.
Released on September 4, 2017, the Platinum Membership offers savings of up to 60% at a growing selection of golf courses in North Carolina and South Carolina, including many Myrtle Beach Golf Courses. As in previous years, the core of the program still includes the popular Play 4 – Get the 5th Round FREE bonus, plus a $100.00 gift card. The golf membership also offers a variety of restaurant discounts and offers.
"Making Golfers happy is what we do," says Dave Harbaugh, Chief Operating Officer of the Platinum Golf Membership. "The Platinum Golf Membership provides them with fun events and a multi-course membership program that doesn't break their 'GOLF DOLLAR BANK'. Attracting golfers and gaining trust for repeat rounds is what many of our nearly 25 participating courses are known for in North and South Carolina. We feel like we've delivered on our commitment to provide a wide variety of course types and price points. We continue to celebrate that we have, 'The Best Multi-Course Membership on the East Coast.' The Platinum Golf Membership is valuable across the board, from the short-term vacationing golfer, to the snow bird golfer, or the local, multi-play golfer by providing an extreme value with up to 60% off greens fees. We welcome golfers from all over the United States and Canada to participate. No residency restrictions."
For a limited time (through December 15, 2017), the Platinum Golf Membership is available for $129 and is active from the day of purchase through December 31, 2018.
For more information about the Platinum Golf Membership program visit their website at http://platinumgolfmembership.com.