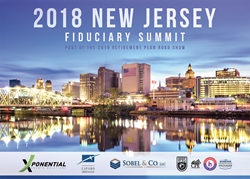 Through education and experience, expertise can be achieved
WEST ORANGE, N.J. (PRWEB) September 11, 2018
The Retirement Plan Roadshow is making its 17th stop in West Orange, New Jersey on Wednesday, October 3rd, 2018. The nationwide tour of educational workshops assists America's employers in helping participants reach their retirement goals and solidify financial success. The 2018 New Jersey Fiduciary Summit will bring together employees and executives in finance, human resources, and benefits with 401(k) and 403(b) experts at the Pleasantdale Chateau from 11:00am to 3:00pm (luncheon included.)
The event will focus on strategies that plan sponsors and fiduciaries can take to improve participant outcomes beyond the fiduciary risk mitigation and fee reviews. Key players from Cafaro Greenleaf will host the discussion, including Principal/Lead Advisor Jamie Greenleaf, Managing Director Brian Clark, and Senior Plan Consultant Darrell Pisarra. They'll be joined by guest speakers Elizabeth Harper, Director of Quality Control and EBP Audit Group for Sobel & Co. LLC; and Melissa Kurtzman, Co-Chair for Employee Benefits Practice Group at Littler.
Jamie Greenleaf emphasized, "Through education and experience, expertise can be achieved. We know educated fiduciaries make fewer mistakes, have a more prudent process and achieve better outcomes for their employees".
Topics to be featured at the 2018 New Jersey Fiduciary Summit include:

What Every Fiduciary Needs to Know
Ask the Experts – Local & National Professional Panel
Key Industry Trends
Plan Sponsor Panel – Insights From Your Local Peers
Financial Wellness
RFI & RFP Best Practices
This is the seventh consecutive year of the Retirement Plan Roadshow, founded in 2012 by Xponential Growth Solutions. XGS is committed to providing fiduciary education and excellent resources that help business owners, fiduciaries and finance, human resource and benefit executives better understand healthcare and retirement plan best practices, strategies and industry trends. This insight allows plan sponsors and key committee members to make informed decisions and develop benefit plans that will help businesses grow and provide positive outcomes for their employees.
These events support the company's goal of helping America's employees better their retirement stability by pairing local speakers with industry forward-thinking leaders to discuss a diverse range of topics ranging from fiduciary responsibility and plan design, to wellness and more. In 2017, the Retirement Plan Roadshow helped over 1,200 companies and organizations, positively impacting more than 2 million employees and representing over $125 billion in retirement plan assets. XGS hopes to leave an even greater impact with the 2018 annual roadshow.
Summit attendees are eligible to receive the following continuing education credits:
3 Hours of CPE/CPA Credit
3 Hours of HRCI/SPHR/PHR/GPHR General Credit
3 Hours of SHRM Professional Development Credits (PDCs)
CEBS Eligible
The cost to attend this seminar is a registration fee of $150, which may be waved for select, qualified plan sponsors who complete a one-minute Retirement Plan Roadshow survey via the following link:
https://xgrowthsolutions.com/events/2018-new-jersey-fiduciary-summit/
About Cafaro Greenleaf:
Cafaro Greenleaf has been serving the greater New Jersey area since 1981 as one of the first independent investment advisory firms to specialize exclusively in 401(k) and 403(b) employee pension funding. Today their reach extends through regional offices in DC Metro, Boston Metro, South Carolina, Texas, Indiana and Florida.
Cafaro Greenleaf is an award-winning leader widely recognized as a pioneer in the retirement plan industry, not only guiding clients through managing and administering cost-effective and legally-compliant plans on behalf of employees— but also helping to shape the industry by participating in the congressional legislative process to forge improved guidelines, drive advancement, and develop innovative proprietary solutions.
Cafaro Greenleaf's management team and senior level advisors work directly with clients to help manage plan costs, improve investment performance, ensure regulatory compliance, and educate participants to maximize benefits—all with the objective of helping employees achieve their financial goals.
For more information, visit: http://www.cafarogreenleaf.com
About Xponential Growth Solutions:
Xponential Growth Solutions (XGS) is an independent resource for unbiased education, best practices, and referrals, working to help employers make informed decisions about retirement plans in order to create a positive impact for plan participants.
XGS offers solutions for 401(k), 403(b), 457, and defined benefit retirement plans, while also facilitating national fiduciary educational summits designed to help human resource, finance, and business professionals in charge of retirement plans to understand and observe best practices in order to reach retirement plan goals. XGS founded the Retirement Plan Roadshow, a nationwide series of educational summits featuring local and leading fiduciary experts, in 2012.
For more information, visit: http://www.xgrowthsolutions.com