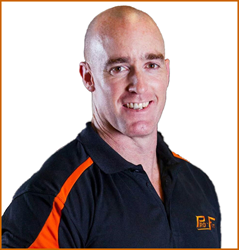 There are daily high points in my profession, such as watching people completely transform themselves and achieve things they never thought possible.
SAN DIEGO (PRWEB) June 14, 2019
The BioMechanics Method, the highest-rated provider of corrective exercise education for exercise, health and fitness professionals with specialists in over 60 countries, is pleased to name Cameron Carey of Durban, South Africa, as the 2019 Corrective Exercise Specialist of the Year. This prestigious industry award recognizes an individual who is certified in The BioMechanics Method, currently providing services to clients/patients and has demonstrated exceptional application of their pain-relief, functional fitness and corrective exercise skills.
Cameron is a personal trainer and corrective exercise specialist with 25 years' experience in the fitness industry. As the owner of Pro-Fit Private Training, a full service exercise facility located in Hillcrest in the KwaZulu Natal Province of South Africa, Carey specializes in fitness offerings that emphasize correct body alignment and application of corrective exercise techniques in order to alleviate pain and improve performance. In addition to ensuring that he and his Pro-Fit staff provide the highest levels of safety and service to clients, Cameron actively fosters integrative working relationships with allied health and medical providers to ensure a holistic approach to full-body wellness. He attributes his working relationships with medical practitioners, physiotherapists and chiropractors as the key to assisting clients as they transition from regular treatment by the medical community to learning how to function in real-life without muscle and joint pain or incurring repeated setbacks. "I became obsessed with bridging this void and learning more about biomechanics in order to provide true physiological value to my clients," says Carey.
Roger Day, a long time Pro-Fit client, believes Carey's use of musculoskeletal assessment screening prior to beginning fitness training and routine integration of corrective exercise into programs is changing people's lives. "I have no doubt that the general well-being I feel, and not having needed medical treatment for many years, is a direct result of Cameron's professionalism, incredible knowledge and personal caring and motivation."
As the 2019 Corrective Exercise Specialist of the Year, Carey will serve as a spokesperson on corrective exercise for The BioMechanics Method. He also receives education packages from PTA Global and The BioMechanics Method, memberships with leading health and fitness organizations IDEA Health & Fitness Association and Personal Training on the Net, and equipment from TRX Training.
"I am humbled by this accomplishment," Carey said upon learning he had been selected as this year's winner. The other finalists for the 2019 CES of the Year award were Michelle Fain of Prescott, AZ and Laura Gideon of Los Angeles, CA. Gideon is a two-time finalist for this award.
ABOUT THE BIOMECHANICS METHOD
The BioMechanics Method is a systematic assessment and corrective exercise process used by health, fitness, and exercise professionals to alleviate back pain and other chronic musculoskeletal pain. There are corrective exercise specialists trained in The BioMechanics Method in over 60 countries. Learn more at http://www.thebiomechanicsmethod.com.