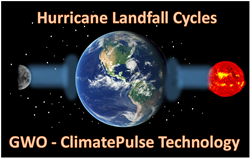 the upcoming 2019 season will likely be just as destructive and costly as the 2017 and 2018 hurricane seasons
OCALA, Fla. (PRWEB) February 25, 2019
In the last three years, utter destruction and devastation from hurricanes have wracked the Southeast United States from Texas to the Carolina's, and some areas of the Caribbean. Florida based prediction organization Global Weather Oscillations Inc. (GWO) has consistently predicted months in advance the landfall locations of all 7 hurricanes to strike the U.S. since 2016.
What separates GWO from other organizations is ClimatePulse Technology developed by Professor David Dilley of GWO. It is this technology that can track historical landfall cycles from the 1800s through time - and into the future.
Cited as the most accurate predictions by any organization, former NOAA Meteorologist Professor David Dilley - has issued the most accurate preseason and in-season hurricane tracking predictions, averaging a stunning 87% hot-spot accuracy rate during the past 11-years, and GWO's predictions were extremely precise in both 2017 and 2018. While other organizations were calling for relatively average hurricane seasons the past 2-years, GWO was the only organization that predicted both years would be the most costly and destructive years for the U.S. in over 14-years, with two major impact hurricanes occurring each year.
GWO's Outlook and Tracking Webinars
Because GWO's ClimatePullse Technology already knows where the 2019 hurricanes will make landfall in the United States and the regions in and around the Lesser Antilles, GWO's predictions provide readiness six months in advance, and our special weekly Outlook webinars and Tracking Webinars provide enhanced readiness eight to 14 days prior to landfall. In 2018, GWO's webinars began tracking major impact Hurricane Michael four days prior to formation, and a full eight days prior to landfall on the Florida Panhandle. Additionally, GWO accurately predicted that a major impact category 4 hurricane would make landfall in the western portion of the Florida Panhandle. You can sign up here to attend one of GWO's free Climate Pulse Outlook Webinars during March into June.
GWO's 2019 Hurricane Predictions for the Atlantic Basin - Gulf of Mexico and Caribbean.
The past couple years have been extremely active seasons with the number of named storms and destructive hurricanes being well above normal. The United States' Atlantic and Gulf Coasts are currently in a very active and dangerous hurricane landfall cycle that occurs every 70-years. GWO stresses that the number of predicted named storms does not matter during an active 70-year cycle. What does matter however, is how many hurricanes will make landfall – and where they will occur. And this is where GWO comes into play.
An average hurricane season has 12 named storms and 6 hurricanes. Professor David Dilley's prediction for the upcoming 2019 hurricane season calls for a near average season when it comes to the number of named storms (13) and hurricanes (6). However – due to the continuance of very warm ocean water and the 70-year hurricane landfall cycle - the upcoming 2019 season will likely be just as destructive and costly as the 2017 and 2018 hurricane seasons. GWO expects two major impact hurricanes to strike the United States this year – with a potential major hurricane also threatening portions of the Caribbean. GWO urges everyone to monitor the upcoming season closely via GWO's webinars and our 13 zone predictions – this is not a year to be complacent.
Media Invited to IHPA Conference for Professor Dilley's Hurricane presentation.
Professor Dilley will elaborate further on his 2019 Atlantic Basin hurricane predictions and ClimatePulse Technology at the International Hurricane Preparedness Association's (IHPA) annual conference on the 17th of May in Ft. Lauderdale, Florida – this is at the tail end of the Florida Governor's Hurricane Conference in West Palm Beach. The IHPA extends an invitation for all media to attend this very important hurricane presentation. The IHPA (ihpa.com ) officially partnered with GWO in 2017 and is the only professional association comprised of hurricane protection manufacturers, suppliers, contractors and associates dedicated to the protection of life and property from the devastation associated with hurricanes.