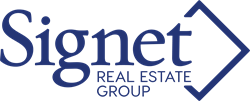 Our real estate resources are now fully aligned to not only build upon our past successes, but to also reach new heights as a unified real estate team.
AKRON, Ohio (PRWEB) December 16, 2020
Building on the success of their comprehensive corporate brand repositioning late last year, Ohio-based private investment company Signet LLC has launched phase two of their overall brand strategy initiative with the launch of Signet Real Estate Group.
The brand launch reorganizes and repositions Signet's real estate ventures into one cohesive real estate platform. The new platform, which includes all of the firm's real estate related functions; including development, property management, project management, brokerage and advisory, and capital markets; allows Signet to better serve the needs of their clients. The consolidation also creates efficiencies and improves team interaction among the various disciplines and geographic locations in order to leverage expertise and resources across the organization.
Signet Real Estate Group, a national firm with total development in excess of $4.5 billion and property management of more than 1.2 million square feet, maintains corporate offices in Akron, Ohio, and Jacksonville, Florida, with executives also working out of Atlanta, Cleveland, and Gainesville. Signet primarily serves the higher education, healthcare and public-private partnership markets.
"We are delighted to announce the launch of Signet Real Estate Group, which is the culmination of the efforts of many in our organization," says Anthony (Tony) Manna, Chairman of Signet LLC. "Our real estate resources are now fully aligned to not only build upon our past successes, but to also reach new heights as a unified real estate team."
Jason Perry, former Senior V.P. and Managing Director of Signet Development, has been elevated to lead the platform's strategic and operational initiatives as President of Signet's real estate development and project management groups out of Jacksonville, while Alan Gribble, President of Signet's property management division, continues to lead the property management operations out of the Akron office.
"We are very excited about the consolidation of real estate services into one unified platform," says Mark Corr, President and COO of Signet LLC. "This will allow us to provide an enhanced client experience while offering a value-driven hand-off of property management opportunities from the projects our development team members are engaged with," says Corr.
Kenneth Krismanth, Signet LLC's CEO, sees the consolidation as an opportunity to better deliver value to Signet's partner clients. "With a mission to create value for our client partners by delivering customized, integrated real estate development, finance and property management solutions, Signet Real Estate Group now has the foundation in place to double development volume within five years," says Krismanth.
The real estate group is well on its way to achieving that goal, with several large projects either coming to completion or being announced in recent months, including:

Lobo Rainforest at Innovate ABQ - In partnership with the University of New Mexico, Lobo Rainforest is a six-story, 158,000-square foot mixed-use innovation hub featuring housing for UNM's Innovation Academy over educational space and offices for Sandia National Laboratories, Air Force Research Laboratory, Cecchi Venture Lab and General Atomics. This $35 million project also serves as the anchor for the Innovate ABQ district and houses UNM's technology transfer office STC.UNM.
Emory Proton Therapy Center - The 112,500-square foot facility, located adjacent to Emory University Hospital in Midtown Atlanta, is the first of its kind in Georgia to offer this state-of-the-art cancer treatment technology. This $300 million project represents the third proton therapy center project managed by Signet and is scheduled to treat patients in late 2018.
Deacon Place - Deacon Place is a luxury student housing community adjacent to Wake Forrest University in Winston Salem, NC, designed specifically for upperclassmen and graduate students. This $26 million, 328-bed project was completed in the fall of 2017.
The Village of St. Edward - The Village of St. Edward expands their footprint to Wadsworth, OH, with a $21.6 million, 106-bed senior living facility as the demand for quality senior care begins to grow.
MetroHealth System - MetroHealth System's $1 billion campus transformation, including a new 270-bed hospital is slated to replace its aging patient towers in Cleveland, OH. Signet Real Estate, as part of a national project delivery team, will spend the next year in pre-construction planning for the campus transformation project.
As a part of the strategic rebranding process, Signet has unveiled a new brand identity for its real estate group including a new company logo and website under the SignetRE.com domain.
About Signet Real Estate Group
Signet Real Estate Group, a subsidiary of Signet LLC, transforms complex development challenges into collaborative opportunities through a creative, flexible, and customized approach. Our team brings more than 20 years of experience in successful development and facility management solutions in the areas of healthcare, higher education, research, public-private partnerships and strategic infrastructure. Since our firm's inception, Signet and its family of companies have successfully managed and currently have in progress more than $4.5 billion in real estate development and construction throughout the U.S. Learn more at signetre.com.
About Signet LLC
Signet brings an innovative, unconventional approach to global investment that embodies creativity and forward thinking to achieve long-term success. With leadership and expertise in the areas of project structuring, capital formation, operational investment and management, we tailor strategy and resources to meet each unique opportunity. Boundless in ideas and tactics, Signet has spent 20+ years crafting collaborative partnerships that advance initiatives in real estate, diversified manufacturing, health and wellness, emerging technologies, investment banking and finance. Learn more at signetllc.com.