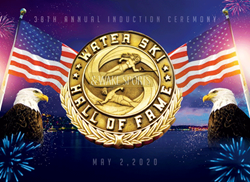 POLK CITY, Fla. (PRWEB) October 03, 2019
The Hall of Fame Class of 2020 include inductees Shaun Murray, Mandy Nightingale and Joe Ray, Award of Distinction Honorees April Coble-Eller, Gene Davis (posthumously), Nikki Lee, Don Mixon Jr., and Eddie Roberts, and Lifetime Achievement Honoree Ed Brazil (posthumously).
It's the Oscars of Water Skiing & Wake Sports- the highest honor one can achieve in the sport! From the moment you walk the red carpet, to hearing the inspirational speeches of our honorees, it will be a night you will forever remember. Together with our partners at Walt Disney World, we will create a magical evening that showcases the remarkable achievements of our Hall of Fame Class of 2020. At the conclusion of the ceremony, all guests are invited to a fun after party in the Fiesta Ballroom.
You won't want to miss this special evening! It will be a night filled with inspiration and incredible memories. We hope to see you there!
Please visit http://www.usa-wwf.org/2020halloffame for the event schedule, venue information, honoree bios, hotel information, sponsorship, ticket purchase options and more!