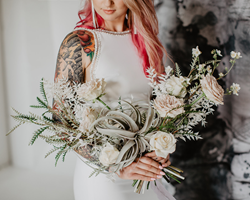 "Learning about the latest trends is really one of the best things a wedding professional can do for their business."
London, England (PRWEB) January 06, 2020
The Wedding Academy, formerly the International Academy of Wedding and Event Planning, has released their annual International Wedding Trend Report, compiling insight from industry experts around the world as they weigh in on the top wedding trends and statistics that will form the industry landscape in 2020.
"Industry trends have a heavy influence on wedding businesses, yet they're always changing with the tides of couples' preferences," says Kylie Carlson, CEO of The Wedding Academy. "That's why we connect with wedding professionals around the globe annually to gather and share ideas and inspiration from worldwide trends. We are always committed to industry education and learning about the latest trends is really one of the best things a wedding professional can do for their business."
Here's a look inside the report at a few wedding trends on the rise.
Fashion Predictions
Monte Durham of Say Yes to the Dress: Atlanta notes that fuller coverage is back, and in a big way. "This could be through a jewel neckline, cap sleeves, adding straps to the dress, or elbow-length sleeves. Embellishments as a whole will also be a focal point, from hand-textured elements to interesting laces." Durham also adds that men are being far more proactive on what they plan to wear.
Starting the Party Early
"Weddings are no longer limited to Saturday evenings," says Carlson. "We were already seeing more weekday weddings in recent years and, now, it seems any time of day goes."
Dorothy Polka, editor of Polka Dot Bride elaborates: "Cocktail weddings and luncheon weddings are rising in popularity with our readers. A lunchtime wedding giving couples just that bit longer to celebrate with their guests, or sneak off and spend the night reflecting on a momentous day."
Adaptable Menus are a Must
Dietary restrictions aren't just a consideration for restaurants, but for engaged couples and their caterers as well. "Addressing dietary lifestyles has become increasingly more common and who says it has to be dull?" poses Hannah Martin, director of Goose & Berry. "Whether it's gluten free, vegan, nut free, keto or paleo, we are always getting requested by our couples to include a menu which is suitable for all. So, say goodbye to the same old goat cheese tart and hello to our delicious gruyere croquette. Everyone's going to want the vegan option!"
CBD-Infused Celebrations
With CBD taking over the health and wellness industry, it's no surprise that it will play out into modern weddings. "Without a doubt, 2020 will be the year of Cannabidiol," states José Rolón, owner of José Rolón Events. "From make-your-own CBD cocktail stations to get the party started to edible parting gifts, this is one rising trend that's becoming integrated into the wedding industry."
A New Take on Honeymoons
"Cultural excursions are becoming more popular than ever before," adds Jen Avey, VP of Marketing for Destination Weddings Travel Group. "Whereas in years past, adventure and adrenaline were top factors in choosing an activity while honeymooning, now couples are looking for enriching, authentic experiences to really feel like a local in their chosen destination. Examples include touring a historic city or archaeological park, tasting local cuisine off property, or volunteering at a local charity where they can spend time with natives and truly make a difference."
Many more 2020 wedding trends can be found in The International Wedding Trend Report, which can be accessed in its entirety on The Wedding Academy's site. These trends will also be presented on stage exclusively at Catersource 2020 in Las Vegas.
About the International Academy of Wedding and Event Planning
The Wedding Academy boasts an internationally recognized accreditation program that brings professional training to wedding planners, event planners, event designers and wedding stylists.