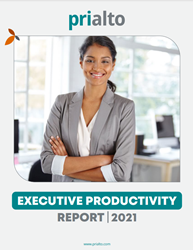 Nearly 8 of 10 executives surveyed want to return to the office—sharply higher than most public surveys of everyday workers.
PORTLAND, Ore. (PRWEB) October 27, 2021
Prialto, a Portland, OR-based company that provides managed virtual administrative assistant services to executives and businesses, today released its second annual executive productivity report. The report provides detailed data on what executives are doing to stay productive, drawn from survey responses by 600 business leaders across the U.S., United Kingdom, Australia, and Canada
Executives Overwhelmingly Want to Return to the Office
Nearly 8 of 10 executives surveyed want to return to the office—sharply higher than most public surveys of everyday workers.

79% of executives want to return to the office
79% of those who want to return cited "Improve Productivity" as the reason
62% said "Administrative Tasks" is where they need the most help (14% more than 2019)
Those reporting at least 6 hours of sleep dropped by 27%
"There is a lot of public speculation about whether individual employees want to return to an office, but few people are asking folks most responsible for pulling businesses forward," said Prialto CEO Eric Taussig. "Burdened by increased admin work that came at the expense of sleep, many executives seem to view the office as the place where they can minimize distractions and collaborate with teams to do their best work."
Executives Invested Heavily in Productivity in 2020
Executives searched for and found productivity support from more sources, and it paid off with 34% more saying they are now more productive working from home than in 2019.
74% said they are more productive at home vs. 40% in 2019
26% more invested in new productivity tools
18% adopted time-management methodologies like Franklin Covey or Pomodoro
Executive Said Their Productivity Has Returned to 2019 Levels
The good news is that executive productivity returned to 2019 levels, when asked if they are satisfied with their productivity in 2021, 84% said "yes"--the same number that said "yes" in 2019.
"It's clear that executives raised the productivity games after the work-from-home shift and it worked," Taussig said. "It is also clear that they still see the office as the place they can do their best work."
Prialto launched the Executive Productivity Report in 2019 because, while there are all kinds of tips and opinions about how executives can be more productive, there is little peer-to-peer dialog from executives themselves about what they actually do to boost efficiency. This survey fills that gap as evidenced by a surprising number of leaders that want to return to in-office work.
Prialto used an independent market research firm to survey 600 high-income (minimum $100K annual salary) and high-ranking (director level or above) executives on August 10, 2021. To download the complete report, visit:https://www.prialto.com/2021-executive-productivity-report
About Prialto Prialto provides virtual administrative assistants to executives, small businesses, and large enterprises. Their virtual executive assistant services are curated and managed from their headquarters in Portland, Oregon, with creative insights from their global staff in Asia and Central America. Their global telecommuting enables talented people from anywhere in the world economy to do meaningful work with dynamic business professionals in amazing places like San Francisco, New York, Chicago, Austin, and Los Angeles. For more information, please visit prialto.com. Follow us on Twitter and LinkedIn @Prialto.