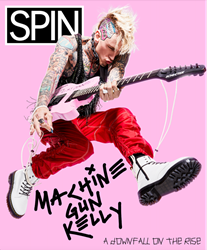 LOS ANGELES (PRWEB) October 26, 2021
SPIN and The 27 Club (owned by musician and Cleveland native Machine Gun Kelly) have partnered to create a series of events opening with a panel to help raise awareness for mental health and addiction recovery on Friday, October 29th. This private event will kick off the weekend of the Rock & Roll Hall of Fame induction ceremony in Cleveland and will be in partnership with The Phoenix, a sober active community that fuels resilience and harnesses the transformational power of connection so that together we rise, recover and live. The night will offer a moderated panel with Dr. John C. Hardin, Vice President, Stand Together; Scott Strode, Founder of The Phoenix; Los Angeles-based artist ASW, and will be followed by an evening of music from DJs curated by SPIN and Machine Gun Kelly.
Mental health awareness is a critical topic, especially during these challenging times. Artists have played a key role in opening a dialogue about vulnerability and further encourage asking for help. The moderated conversation will touch on the problem and a vision for a better world, in an effort to provide clear next steps and engagement opportunities for the audience.
The 27 Club is named after famous musicians who have passed away at the age of 27. Many have been featured on SPIN Magazine covers over the years, including Amy Winehouse, Jim Morrison, and Kurt Cobain. On this same night, SPIN will create a dedicated gallery of these memorable covers, as well as other iconic images they've captured in years past. The installation will remain in place following the event and be open to the public for one month, until December 1, 2021. The 27 Club is located at 1215 W 10th St, Cleveland, OH 44113.
SPIN is the ultimate music and culture discovery platform. SPIN has been passionate about music since 1985 and continues to be one of today's most recognizable names in music journalism, content, and pop culture. Harnessing the music industry's most powerful voices, SPIN's newly launched IMPACT, in partnership with Stand Together, is committed to raising awareness and taking action around some of society's most pressing issues. Stand Together is a philanthropic community tackling the root causes of America's biggest problems.
ABOUT SPIN
SPIN is one of the most recognizable names in music journalism and pop culture. In early 2020 SPIN launched a new generation for the legendary media group, putting the brand back where it belongs at the center of the cultural zeitgeist. Recent covers have featured some of today's biggest stars, like Run the Jewels, Machine Gun Kelly, and Kehlani, coupled with in-depth interviews, merchandise, and original video content.
ABOUT THE PHOENIX
The Phoenix's mission is to build a sober active community that fuels resilience and harnesses the transformational power of connection so that together we rise, recover, and live.
ABOUT STAND TOGETHER
Stand Together empowers people dedicated to helping others improve their lives. Our philanthropic community tackles some of the biggest challenges of our times, including reforming the nation's criminal justice system, strengthening K-12 education, helping neighbors beat poverty and addiction, empowering everyone to find fulfilling work, and more. We can all make a greater difference by uniting than we can by acting on our own. Learn more at https://standtogether.org. Join us on Facebook, Twitter, LinkedIn, Instagram, and YouTube.
ABOUT 27 CLUB
Opened in 2020, The 27 Club is an unapologetically authentic Coffee Lounge and Kitchen located in Downtown Cleveland's Flats East Bank Neighborhood. Owned by Cleveland native and multiple-award-winning musician Machine Gun Kelly, The 27 Club serves decadent coffees, delicious food, and themed cocktails with an aesthetic meant to reflect the notorious group of legendary rock stars and artists that died at 27.