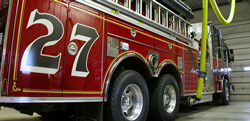 For over 40 years, industrial ventilation company, Clean Air Company, has been the trusted ambulance and fire truck exhaust extraction system vendor. It protects firemen and EMT workers' health, reduces liability exposure, and lowers insurance costs for firehouse and public safety organizations.
WILDWOOD, N.J. (PRWEB) September 14, 2021
On September 17th and 18th, 2021, Clean Air Company will be at the NJ Firemen's Convention and Expo in Wildwood, NJ, to answer questions about how their high-quality vehicle exhaust extraction systems help protect employee health, reduce liability exposure, and lower insurance and energy costs for fire departments and EMS squads. Clean Air Company has over 40 years of experience providing modern, efficient, and competitively priced design-engineered solutions that improve indoor air quality in EMS and fire stations throughout New Jersey, Pennsylvania, Connecticut, Delaware, New York, and New York City, including Long Island and Manhattan.
At the Expo, attendees will be able to see Clean Air's top-rated vehicle exhaust extraction equipment and meet Clean Air's Fire Sales Representative and Service Manager. Visit them to learn how well Clean Air's customized systems help reduce paramedics' and firefighters' exposure to toxic gases and hazardous chemicals in diesel exhaust. Some of the unique products that will be on display in Clean Air's booth are the Plymovent Magnetic Grabber and Plymovent Safety Disconnect Handle, which work in conjunction with each other. The Magnetic Grabber features a "click and seal" nozzle that makes it fast and convenient to operate. Designed and constructed to hold up to the intense demand of fire departments and EMS squads, the Magnetic Grabber is made of polished stainless steel to prevent erosion and features a 100% recycled rubber cover that protects you and your equipment. The ergonomic and easy-to-operate Plymovent Safety Disconnect Handle can operate both the pneumatic and magnetic Plymovent systems and doesn't obstruct the hose, allowing dangerous gases to be removed from the building quickly and efficiently. Also featured will be Clean Air's top-grade tailpipe adapter, Plymovent Stainless Steel Conical, which is more durable than other adapters on the market when faced with environmental conditions like road salt and ice-melting solutions.
If you want to protect the health of your fire department's or EMS squad's employees, reduce organizational liability exposure, and lower energy and insurance costs, speak to the helpful and friendly Clean Air Company team at the NJ Firemen's Convention and Expo and inquire about the "Try Before You Buy" program. Clean Air will be displaying their products at the Expo at Montgomery and Ocean Avenues in Wildwood (across from Convention Hall) on Friday, September 17th, from 8 am until 6 pm, and on Saturday, September 18th from 8 am until 1 pm.
To learn more about Clean Air Company's vehicle exhaust ventilation systems, visit Clean Air Company on the Web at http://www.cleanairco.com.