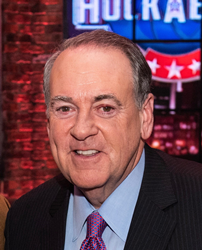 "There's a side of me that thinks his great play would be to be the kingmaker rather than try to be the king," says Huckabee. "He could put his hand upon someone and anoint them like what happened with King David and say, "This is the guy,' and it's over.
LOS ANGELES (PRWEB) January 10, 2022
As a two-time contender for the Republican Party's presidential nomination, Mike Huckabee has invaluable insights into the next GOP run for the White House. In an exclusive 45-minute interview with the radio show/podcast "Dream UP," he offered an interesting take on the role Donald Trump can play in the race.
"There's a side of me that thinks his great play would be to be the kingmaker rather than try to be the king," says Huckabee, a former Arkansas governor who ran for the GOP nomination in 2008 and 2016. "He could put his hand upon someone and anoint them like what happened with King David and say, "This is the guy,' and it's over. Is that Mike Pompeo, or Ron DeSantis? I don't know.
"If he decides to run, anyone would have a hard time overcoming him for the nomination," adds Huckabee. "If he doesn't run, there will be 20 people or more who will all at least get their toes in the water and see if they've got a shot."
Huckabee also advised that the 2024 field of potential candidates adopt his own philosophy of refusing to take shots at each other and keep their campaigns positive, issues-driven and focused on defeating President Biden.
"I never took a shot at Trump or any of the candidates, because they're on my team and one of us," explains Huckabee. "We're all vying to be quarterback. Only one of us are going to be quarterback, but the rest of us have a support role to play if we don't get picked.
"It's the dumbest thing in the world when candidates within their own team say that guy's not qualified, he's not fit, he shouldn't be elected because you're hurting your own cause," he adds. "I hope people will focus upon our contrast with the far left and not very minor contrasts with each other because bigger things are at play in this election."
Huckabee noted that there has been a major shift in the Black and Latino communities away from the Democratic Party. Having achieved the remarkable feat of having received 48 percent of the Black vote while governor, he shared the key to winning these traditionally Democratic voters over to the GOP side of the fence.
"It's not that unusual if you do it right. The biggest thing I say is, don't change your message," advises Huckabee. "Don't pretend that you're going to go to the Hispanic community or the African-American community and suddenly say, 'Oh, let me throw out some words.' That's nonsense.
"Be authentic. People appreciate authenticity. The main thing is don't focus on the party, focus on the principles and the policies," he continues. "Focus on the vertical- the up, the down, the good - rather than the horizontal spectrum of politics where everyone is labeled as left, right, liberal or conservative."
Reminding listeners of the 1980s "Pepsi Challenge" - in which people closed their eyes and had to pick whether they were drinking Coke or Pepsi – Huckabee said that most people of any racial or other background find they're conservative once party labels are removed.
"Just ask them, 'Do you want to keep more of the money that you worked hard to earn? Would you like to keep it or would you like to give more of it to the government so they could spend it for you/'" says Huckabee. "Then ask them 'Dou you believe that the family is the most basic unit of government that we have in our country? Or should we be governed by those who have been elected?
"When we start asking the right questions and we ask people to answer them on their own, most people will naturally fall within a conservative or Republican view."
Ultimately, Huckabee notes that it is America's respect for individuals and their rights that makes the nation unique. Thus, the answer to reaching any type of voter imaginable is to regard them as a valuable individual rather than by labeling them with identity politics.
"America was founded on the notion that our liberties are personal to us, so our liberties do not belong to the group that I'm a part of," explains Huckabee. "Whether it's my ethnicity, my gender, my race, none of that – my identity, my freedom and my liberty is unique to me as an individual. And that's what makes America unique. It's what separates us from most governments of the world."
To hear more of this exclusive interview – in which Huckabee discusses his own remarkable journey from a working-class childhood to national status as a politician and broadcaster with the weekly Trinity Broadcast Network talk show "Huckabee" – visit http://www.dreamupshow.com. The video of the episode is also available at the YouTube channel Dream UP Show.
"Dream UP" is a weekly talk show on KABF 88.3 FM in Little Rock and airs all across Arkansas and syndicates to stations in Dallas, New Orleans, Columbus Ohio, Flagstaff Ariz. and Greenville, Miss. It airs in podcast form on Spotify, Google Podcasts, Spreaker and other top podcast outlets and in video form at "Dream UP Show" channel on YouTube.
Past episodes have featured top guests including comedy legends Bob Saget and George Wallace, New York Times #1 best-selling humorist A.J. Jacobs, and Stephen Tobolowsky, one of Variety's 10 busiest actors in Hollywood – all discussing their remarkable journeys to success.