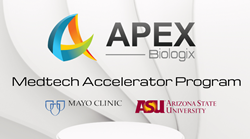 MURRAY, Utah (PRWEB) March 30, 2022
APEX Biologix, a leader in the regenerative medicine industry, announced today that it was selected for the 2022 cohort of the Mayo Clinic and Arizona State University (ASU) MedTech Accelerator Program.
The MedTech Accelerator is a flagship initiative of the Mayo Clinic and ASU Alliance for Health Care. The alliance is developing comprehensive improvements in the science of health care delivery and practice, all towards one goal: continually advancing patient care. Together, the recognized world leader in patient care, education and research, and the nation's No. 1-ranked university for innovation are combining expertise from every corner of health care. Expert doctors, bioengineers, and business experts join for an adaptive approach to preparing the next generation of health care pioneers and practitioners in our communities.
APEX Biologix was selected to participate in the MedTech Accelerator program because of the superior products and consistent best-in-class regenerative concentrations offered by APEX. The growing impact of regenerative medicine in healthcare has incubated this unique collaboration with Mayo Clinic and ASU to enable clinical studies, investigate new applications for regenerative medicine, and provide opportunities for patients to receive cutting-edge, non-surgical treatments.
"We are tremendously honored to have been chosen by Mayo Clinic and ASU to take part in this world-class program offered to only a few medical technology companies. APEX is constantly pursuing methods to improve patient care through regenerative medicine products. With Mayo Clinic's commitment to the highest quality of medical care, we believe this collaboration will result in the creation of new products and applications that will further harness the power of the body's natural healing process," said Troy Openshaw, APEX Biologix President.
This new partnership is one of many upcoming milestones in APEX Biologix's growth as regenerative medicine leaders. Learn more at apexbiologix.com or by contacting Sean Woodward.
About APEX Biologix
APEX Biologix is an emerging industry leader in orthobiologics. The company is dedicated to the science and research of innovative biologic medicine and its potential, while supplying physicians with the best products and education available to treat their patients and improve quality of life.
Program Website: http://www.medtechaccel.com
Alliance Website: http://www.mayo.asu.edu