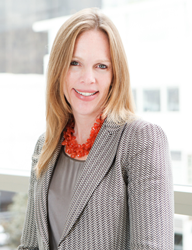 We are thrilled and honored to welcome Catherine to the Syllable team. Her expertise and skills will be invaluable to help us achieve our mission of improving the patient experience through artificial intelligence.
SUNNYVALE, Calif. (PRWEB) May 06, 2022
AI-enabled healthcare automation leader, Syllable, announced today that healthcare leader Catherine Krna has been appointed as the new Chief Operating Officer (COO) of the company.
Catherine is an experienced healthcare executive with extensive executive management responsibility in health systems with proven change management, strategic, and operational leadership capabilities. Catherine is joining the Syllable team to support the company's strategic vision and oversee Syllable's operational team, including implementation, customer success, and partnerships.
With a track record of excelling at operating in complex specialty and tertiary care environments, Catherine brings exceptional executive talent recruitment and development capabilities to her new role; her operational performance and outstanding results mark her as a major boost to Syllable's fast-growing team.
At Stanford Health Care, Catherine reported to both the system's Chief Executive Officer and Chief Operating Officer and led the system's ambulatory network of care. She oversaw faculty and community footprints with accountability for over 2,000 employees, 1.5m outpatient clinic visits, and was accountable for the performance of 12 clinical Service Lines across patient access, patient experience, quality, and value-based metrics.
Prior to Stanford Health Care, Catherine served as Senior Vice President at Hospital for Special Surgery (HSS) in New York City, reporting to the CEO. While at HSS, Catherine had strategic and operational accountability for HSS's Service Lines inclusive of clinical operations and academic and research programming. She also had operational accountability for the system's Physician Assistants, International Center, Ambassador Services (Patient Accommodations), Physician Referral Service, and regional satellite offices.
Prior to HSS, Catherine was an Engagement Manager at McKinsey and Company, working as a consultant in the New Jersey office leading teams to support clients in the provider, pharmaceutical, and medical device industries.
Commenting on her new role at Syllable, Catherine said: "I am so excited to be joining the Syllable team to advance patient access and clinician and staff wellness. I am particularly inspired by Syllable's mission to better healthcare for communities and support health systems in the most noble of work - caring for others. Syllable's technology platform will help alleviate the operational barriers to care for patients and optimize the human capital of our country's healthcare systems' clinical teams."
Current COO and Co-founder Gui Bastos said, "We are thrilled and honored to welcome Catherine to the Syllable team. Her expertise and skills will be invaluable to help us achieve our mission of improving the patient experience through artificial intelligence. I am looking forward to partnering with her team to take Syllable to the next level." Gui will assume responsibilities of Chief Product Officer at Syllable when Catherine joins in June 2022.
"Syllable is at a crucial point in its growth trajectory," said Kobus Jooste, Chief Executive Officer of Syllable. "As one of the most transformative platforms for health systems, our vision is clear, but execution is everything. Our mission requires thoughtful leadership, and Catherine brings remarkable skills and a proven track record to Syllable with a passion for helping patients. The team is excited to be leveling up."
The Syllable Patient Assistant AI-enabled service transforms the way health systems provide access to care, improving the patient and healthcare staff experience while decreasing operational costs and staffing burdens for health systems. The rate of deployment of Syllable at U.S. health systems has been accelerating due, in part, to the increased burden in staffing for healthcare call centers, medical practice offices, and departments at hospitals.
Syllable recently announced a $40 Million Series C funding round led by TCV to further grow the team and support demand for its intelligent voice solutions in the call center and medical practice offices. The Series C funding had participation from existing investors Oak HC/FT, Section32 and Verily.
Welcoming Catherine as COO, Board Member, and Partner at Oak HC/FT, Vig Chandramouli said, "We are excited to have an executive of Catherine's caliber join to advance the Syllable mission of improving patient and healthcare staff experience. Her expertise will have an immediate impact on Syllable's progress with our health system partners."
Series C lead investor Matt Brennan, General Partner at TCV, commented on Catherine's appointment as COO: "We are thrilled that Catherine has joined the Syllable team. Catherine has proved herself a versatile operational leader and a true healthcare visionary. The global opportunity ahead for Syllable is expansive, and I have no doubt Catherine will push the company to new heights."
About Syllable
Syllable is an AI-enabled healthcare services company that transforms the way health systems provide access to care. Syllable is a leading platform for automation using machine learning (ML) and understanding (NLU). Syllable automated solutions in the call center and health system website lowers burden on staff and reduces operating costs.
Long call hold times, rerouted or dropped calls, and dead ends can all contribute to a frustrating patient experience and make it cumbersome to access vital care quickly. Poor search functionality on the health system website and frustratingly hard to use patient portals confuse patients. Syllable helps patients navigate health care options with empathy, transparency and intelligence from the moment they request care by dialing the phone or visiting a health system's website.
Since 2018, Syllable's solutions have been in use by some of the largest and most respected health systems across the United States.
Learn more at syllable.ai.