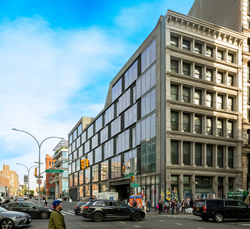 Demand for skills in data, marketing, design, and software engineering has skyrocketed in the last few years, and with our expanded New York headquarters, we'll be able to provide even more career-building opportunities for ambitious professionals
NEW YORK (PRWEB) June 02, 2022
BrainStation, the global leader in technology skills training, is proud to announce a significant expansion of its New York operations, including a 35,000-square-foot, state-of-the-art campus in the city's SoHo neighborhood, and a multi-year investment of over $20 million in local growth initiatives.
The expanded BrainStation headquarters more than triples campus space for the company, offering two floors of classrooms, broadcast studios, and event spaces in SoHo, which has transformed over recent years into a fast-growing innovation hub in the city.
"We're excited and very proud to be expanding our operations in New York, which is a global tech center that will continue to shape the future of the digital economy," said Jason Field, Founder and Co-CEO of BrainStation. "Demand for skills in data, marketing, design, and software engineering has skyrocketed in the last few years, and with our expanded New York headquarters, we'll be able to provide even more career-building opportunities for ambitious professionals in New York and across the country," he said.
Job growth in the technology sector is outpacing the rest of the US economy by three to one, with nearly 800,000 open roles unfilled. New York City is playing a big part in this growth, with more than 9,000 startups and 100 incubators in its tech ecosystem. With the expansion, BrainStation intends to train more than 5,000 professionals across New York every year, giving them the skills they need for the fastest-growing and highest-paying jobs in software engineering, data analytics, data science, user experience (UX) design, product management, and digital marketing.
BrainStation New York offers a comprehensive suite of career-focused tech bootcamps and courses, including:
Tech Bootcamps (full-time or part-time):

Certificate Courses (part-time):

Designed to provide students with the skills employers are looking for in today's market, BrainStation's award-winning bootcamps are taught by instructors from the most innovative companies, including Google, Meta, and Amazon, among others. The company's bootcamps provide access to an exclusive hiring network of over 6,500 hiring partners, with one-on-one career guidance and support, including resume writing for job applications, personal branding, interview preparation, and more. In addition, BrainStation offers a range of scholarships, and has awarded over $2 million in education funding to help underrepresented individuals enter the workforce.
BrainStation also recently announced a significant expansion of its international European operations, including a new, state-of-the-art campus in London's Shoreditch district and a multi-year investment of over £10 million. In 2021, the company acquired Miami's Wyncode Academy, South Florida's leading coding and UX design bootcamp.
For more information about BrainStation's bootcamps, courses, and events, please visit BrainStation.
About BrainStation
BrainStation is the global leader in technology skills training and workforce transformation, with award-winning bootcamps, certificate courses, corporate training, industry-leading events, and more, both online and at state-of-the-art campuses in cities such as London, New York, Miami, Toronto, and Vancouver.
Founded in 2012, BrainStation works with over 500 industry leaders from the most innovative companies, developing cutting-edge digital education that has empowered more than 100,000 professionals and some of the largest corporations in the world, including Amazon, Tesla, Microsoft, Google, Johnson & Johnson, and Shopify, among others.
For additional information, please contact:
Sal Ciolfi
BrainStation
Director, Content and Communications
press@brainstation.io