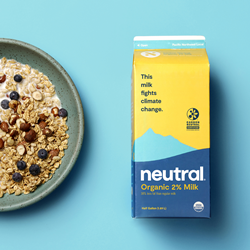 "We are confident in this investment because of the team's deep expertise in reducing GHG emissions in food production and supply chain and building a large retail business," said Anjani Bansal, Global Brain
PORTLAND, Ore. (PRWEB) August 31, 2022
Neutral Foods, the first carbon neutral food company in the United States that debuted nationally in 2021 with organic milk products now available in more than 2,000 grocery stores from coast to coast, has announced the $12 million first round of Series A funding.
Led by Breakthrough Energy Ventures, this close follows two seed rounds totaling approximately $8 million, including a round led by David Adelman's Darco Capital of celebrity investors such as NBA stars LeBron James, Kevin Love, and Tobias Harris and musicians John Legend and Questlove.
"Neutral continues to validate that consumers are hungry for sustainable, climate-forward options," said Carmichael Roberts, Breakthrough Energy Ventures. "This round of funding will enable Neutral to reach more people and accelerate carbon neutral foods and technologies."
Additional investors from the Series A round include the Japanese firm Global Brain, its CVC partners Kirin Holdings Company, Limited and Norinchukin Bank, and Craig Shapiro of the New York-based Collaborative Fund.
"We are confident in this investment because of the team's deep expertise in reducing GHG emissions in food production and supply chain and building a large retail business," said Anjani Bansal, Investment Group Partner at Global Brain. "Neutral has strong traction with major national retail chains and has demonstrated exceptional execution capability."
This capital raise follows Neutral's continued expansion into Whole Foods Market and Sprouts stores nationwide and Target locations on the West Coast. The company works directly with dairy farmers to reduce its products' carbon footprint by implementing various strategies to reduce carbon emissions. What cannot be reduced is offset by purchasing strict carbon credits from U.S. dairy farmers who turn cow emissions into renewable energy.
"Supporting companies that are working to benefit the greater good is an investment strategy for a better future," said Craig Shapiro, founder and managing partner of Collaborative Fund. "Neutral shows that we can produce food that's better for the environment, our communities, and our families without compromising taste – my 4-year-old son gives Neutral milk a thumbs up."
By the end of the year, Neutral will add more grocers around the country to its distribution list, which will double the number of stores where consumers can find its whole and 2 % milk. The company recently announced its expansion into food service, starting with its hometown of Portland, where it just began to roll out Neutral Pasture Raised Butter at New Seasons Market stores across the metro area.
In addition to Whole Foods Market, Sprouts, and Target, Neutral's carbon neutral dairy products are also available at regional and independent grocers such as Central Market (Texas), Earth Fare (Southeast), Erewhon (SoCal), Nugget Market (Norcal), and Haggen, a division of Albertsons in the Northwest. Neutral is distributed nationally by United Natural Foods Inc. (NYSE: UNFI) and KeHE.
"We continue executing our growth strategy to make more Neutral products accessible to those who want simple, daily solutions to protect our planet," said Marcus Lovell Smith, CEO, Neutral Foods. "This round of funding further supports our approach to being a carbon neutral food company that's revolutionizing the food industry."
To learn more about Neutral, please visit https://www.eatneutral.com.
About Neutral Foods
Neutral Foods, the first carbon neutral food company in the United States, offers carbon neutral dairy products nationwide. It's on a mission to radically reduce the nearly 37 percent of global emissions the agriculture industry produces. Started in 2019 in Portland, Oregon, Neutral is a national brand that works directly with farmers to reduce the carbon footprint of dairy products - for good. Neutral has organic and conventional carbon neutral dairy solutions for retail, food service, and ingredient needs and intends to broaden its impact with additional agricultural foods.
About Breakthrough Energy Ventures
Backed by many of the world's top business leaders, Breakthrough Energy Ventures (BEV) invests in cutting-edge companies that will lead the world to net-zero emissions. BEV has more than $2 billion in committed capital to support bold entrepreneurs building companies that can significantly reduce emissions from agriculture, buildings, electricity, manufacturing, and transportation. BEV's strategy links government-funded research and patient, risk-tolerant capital to bring transformative clean energy innovations to market as quickly as possible.
The first fund was created in 2016 as part of the Breakthrough Energy network of initiatives and entities, which include investment funds, non-profit and philanthropic programs, and policy efforts linked by a shared commitment to scale the technologies needed to address climate change and achieve a path to net zero emissions by 2050. Visit http://www.breakthroughenergy.org to learn more.