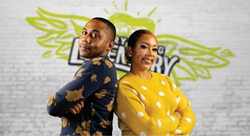 "You don't have to give up flavor and fun when you choose vegan" said Cheers.
HYATTSVILLE, Md. (PRWEB) September 08, 2022
Everything Legendary, known for its gourmet, flavor-packed vegan burger patties, has even more plant-based options flying off grocery store shelves. The Black-owned company has launched a line of boneless Wyngz that are ready for take off in three tantalizing flavors for the whole family to enjoy.
Everything Legendary's Dragon Wyngz are a new twist on traditional nuggets. Scorchin' Bites take the flavor to a whole new level for those who like to live on the edge of spicy. Each Wyngz variety is packed with 13 grams of protein per serving and they're soy-free with no artificial preservatives.
The new Wyngz options will now complement Everything Legendary's already successful brand of plant-based burgers and ground. Co-founders Duane Cheers and Danita Claytor have long had a dream to bring plant-based Legendary taste to popular foods, by creating them with ingredients in a kitchen, not a lab.
"You don't have to give up flavor and fun when you choose vegan" said Cheers. "If you miss those spicy chicken wings, our Wyngz will satisfy that craving with all of your senses - the look, smell and taste will not disappoint. Like our burgers, these Wyngz are legendary!"
About Everything Legendary:
Everything Legendary, founded by Duane "Myko" Cheers and Danita Claytor, is leading the flavor revolution with a line of healthy, plant-based foods. Inspired by Mom, created by a chef, and taste-tested by the community, Everything Legendary is a Black-owned company that goes above and beyond the impossible to deliver food with legendary flavor and superior quality at retailers nationwide, in restaurants and online at https://golegendary.com/. Join them for recipes, tutorials, product information and more: Everything Legendary. Socialize with them: Instagram and Facebook.