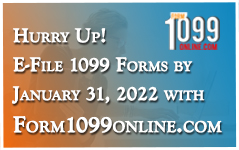 Form1099Online is an IRS authorized e-file provider & is safe and secure. Put an end to worries as your sensitive info is safe in the right hands. Our Form 1099 e-file services are in an easy-to-use way. Filers can follow our step-by-step assistance to complete their form 1099 e-file in minutes.
WICHITA, Kan. (PRWEB) January 19, 2022
Form1099Online started e-filing service for Form 1099 NEC, 1099 MISC, 1099 K, 1099 INT, 1099 DIV, 1099 R, 1099 A, and 1099 S for 2021 Tax Year. Those business owners who made payments to individuals who are not the businesses full-time employee can start filing respective 1099 Tax Returns now. These e-file 1099 NEC services are open for all tax practitioners, accounting firms, clients who submit 1099 Forms in single or in bulk.

Report Form 1099 MISC and NEC Now for the payments made in 2021 and avoid late payment penalties by the IRS
You can e-file with the IRS also can mail the recipient copy B through USPS mail service on Form1099Online.com
Recipient TIN Matching feature also provided with minimal charges
There is no signup and annual charges for the account. It's completely free and pay when you report 1099 to the IRS only
Its completely Free to download & print reported 1099 forms
Form1099Online is updated to the newest Tax compliance and laws. Hence, speed up the form 1099 filing process & go green by File new 1099 NEC Online.
The services offered are 100% real & cost-effective for the business owners, tax professionals, accountants, Small business owners etc. We bring the best quality e-file service along with reliability. This is trusted by millions of business owners & leading green tools that offer as low as "$0.75" per 1099 return
Do you have any doubts regarding 1099 filing? Are you struck at reporting Form 1099? don't worry! our Free Customer Service is there for help you on +1(316)869-0948
Read our blog for more Information
With a Fillable 1099 NEC Online, the taxpayer can enter all the required info on the single screen, and submit the respective 1099 NEC copies to the IRS & to the State. Also, furnish the recipient copy B of 1099 NEC Tax Form using USPS mail under security encrypted networks using a single email. Form1099Online secures the info you have provided safely in the cloud for nearly 3-4 years from scammer activities. So, the existing payee/payer information can be re-used to file 1099 NEC Online for subsequent years. Also, the filers can minimize last minute mistakes as Form1099online.com is IRS audit support. In case of error filing 1099 NEC, the user can re-correct the tax form hassle-free & re-submit it as low as never before. Besides, the payer can have multiple access under a single e-file account.