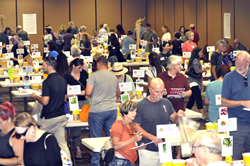 Decentralized seed banks are key. Every community, church, school or family can have one. Store garden seeds in a safe, dry and dark place. This will assure that you will have seeds for your next crops no matter what happens, not reliant on supply chains or the success of commercial seed growers.
PHOENIX (PRWEB) October 05, 2022
What if there were 10,000 seed banks in your town? That is the question posed to the Great American Seed Up team in 2013 after realizing that pretty much the only place to purchase seeds locally was a small rack at the big box stores and a few local nurseries. THAT is a problem, as without local seeds we can't have local food.
GASU set out to fix it by creating what is likely the biggest seed bizarre in the world. 10,000 square feet of open pollinated (the kind we want in our gardens) seeds that you can scoop to your hearts content. AND the energy in the room is palpable. This is exactly what the Great American Seed-Up is all about. View a video of the event at GreatAmericanSeedUp.org.
Seed banks get a lot of publicity these days. From the Svalbard "Doomsday" Seed Vault in Norway, to rumors of the annihilation of the Seed Bank in Ukraine, seeds and what they represent are finding their way into headlines. The attack on Ukraine and the war's grave impact on grain supplies coupled with local seed shortages and food supply challenges have raised a new awareness that without seed sovereignty (i.e., freedom and control over one's own seeds) region by region, the assumption that we can get the seeds that we need when we need them to grow food is being questioned.
The development of decentralized seed banks is key. Every community, church, school and family can have their own seed bank. To set one up, simply store a cache of your favorite seeds in a safe, dry and dark place. This will assure that you will have what you need to grow your next crops no matter what happens. Your self-selected and saved seeds are not reliant on supply chains or the success of a commercial seed grower in unstable climactic conditions.
Saving seeds is one of the most ancient human endeavors, one of the building blocks of civilization. "Seed saving is as old as humanity itself and is why we even have civilizations. Hunter and gatherers began to settle down as they understood how to nurture and work with seeds to grow the food they needed to survive. This ancient relationship is alive and well and being revived all over the world," states cofounder Greg Peterson from the Urban Farm. "We are thrilled to bring the seed stock needed to Phoenix so everyone can start their seed saving adventure."
This 8th Phoenix Seed Up event underscores the need for seed and food security and offers ample opportunities for patrons to stock up on as many seeds as they want. The seeds are sold in bulk amounts and prices are reduced dramatically by having attendees do the packaging. The organizers of the event have more than 150 years combined experience in gardening and seed saving. Together they have crafted an event that caters to all kinds of seed preferences and offers the seed saving education participants need to understand the importance, the necessity and the opportunities inherent in this ancient tradition.
Find out how these magical gems have been at the forefront of many civilizations. Not only can attendees acquire as many seeds as they need (or want to distribute), included with each admission are educational materials covering the philosophy, history, practice and current paradigm of seeds around the globe.
Attendees are encouraged to reserve their spot at the Phoenix Seed Up early for best selection of entry times. Join us for one or both days.
Two dates to choose from with staged entry times:
Friday night, Nov 4, 2022 4pm–8pm, $7.50 admission
Saturday, Nov 5, 2022 11am–4pm, $7.50 admission
Virtual classes include Seed Saving, Storing, & Starting and more! Register in advance to receive these as webinars!
Both Days: Approximately 100 varieties of bulk seed at bulk prices — additional cultivars this year include new tomatoes, onions, grains, flowers and more. All seeds are non-GMO, desert-adapted, open-pollinated, and dramatically reduced in price.
The event will be held at 5757 N. Central, Phoenix Baptist Church, Bldg. B in Phoenix, Arizona.
Register at: GreatAmericanSeedUp.org
The Great American Seed Up (GASU) is committed to finding novel ways to get quality seed into the hands of farmers and gardeners, minus the packaging and distribution costs that drive up the price of seeds for the consumer. Now in its 7th year presenting its 8th event, the Great American Seed Up is passionate about bringing adaptable, non-GMO, heirloom seeds in bulk quantities to as many people across the nation as possible for growing and saving during challenging times.
For more information, visit us at GreatAmericanSeedUp.org or follow us on Facebook at fb.com/GreatAmericanSeedUp.