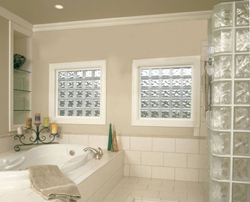 MEDINA, Ohio (PRWEB) October 06, 2022
According to the Global Glass Block Market Report 2020, the market for glass block, glass bricks, and similar products is expected to reach $273.1 million by 2026, an increase of nearly $46 million from 2020.
Glass block usage reached its height in the 1980s, but it actually dates back to 1907, when Deutsche Luxfer-Prismen-Gesellschaft (translated: the German Light Prism Company) developed a process that fused two sections of glass into a single unit, with the goal of making a stronger glass that could be used to bring natural light into factories and used like concrete blocks.
Appreciation for glass block as a design element picked up in 1932 when the architects of the Maison de Verre ("House of Glass") in Paris demonstrated the artistic effect that could be achieved when creating glass walls made of blocks of varying transparencies. Around the same time in the U.S., architects Andrew Rebori and William Lescaze were creating iconic homes and buildings featuring glass block, but as the Streamline Moderne design movement waned in the 1940s, glass block fell out of fashion, to be resurrected briefly in the 1980s.
With today's wide selection of products–glass blocks and bricks of varying sizes, textures, translucencies, and even colors–designers and architects are finding new uses for glass block. "What architects and designers are able to achieve with glass block and glass bricks is truly remarkable and would have been unheard of with earlier generations of glass block products. There is a potential for real artistry and creativity with options available on the market today," says Steve Boesch, Vice President of The Glass Block Supply Company and GBA Architectural Products + Services.
The use of glass block and glass brick is increasing in both commercial and residential spaces. Arts space St. Ann's Warehouse in Brooklyn, New York, features nearly 3,000 square feet of glass bricks while the Comedor Restaurant in Austin features a façade on both of the downtown restaurant's street-facing walls constructed of masonry brick interspersed with glass brick. In residential spaces, glass block walls are being used as dividers in open concept spaces, such as lofts and studio apartments. Glass block is also commonly used for shower windows, enclosures, and the most well known application, glass block windows.
"We are thrilled to have the opportunity to collaborate with so many creative professionals as they design functional and impactful spaces with our glass block and brick product lines," says Boesch. "We remain committed to offering the newest, most innovative items to make each of their visions a reality."
Contact Glass Block Supply Co. to find out how glass blocks and bricks can transform your project.
###
Backgrounder
Glass Block Supply Company is the preferred one-source supplier for everything you need to complete any glass block project. GBS has built a solid reputation as a dedicated glass block supplier, successfully and expertly serving the commercial and residential construction and remodeling industry for more than 30 years. As one of the largest providers of premium glass block products and accessories for homeowners, dealers, and distributors, Glass Block Supply Company continues to expand its services to meet customers' needs.
Glass Block Supply Company's knowledgeable staff will help you with all project details, from pre-planning and design validation to selecting all the correct materials. GBS is positioned to deliver the best product, the best service and the best value. GBS is a one-call solution with access to a complete line of the top-selling glass block patterns, a wide selection of related accessories, installation components, and customized services. As a high-volume distributor, GBS can handle any size order with ease and offers the lowest prices among its competitors.