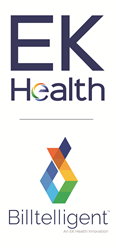 We did not want to create another software for software's sake. With Billtelligent™, we have control at all levels and can bring the change our industry deserves. We will be faster, flexible and more accurate. Eunhee Kim, EK Health's Owner & CEO
SAN JOSE, Calif. (PRWEB) October 18, 2022
EK Health Services Inc. proudly announces the launch of Billtelligent™, a proprietary technology that is taking medical bill review in workers' compensation to the next level. Billtelligent™ eliminates barriers for EK Health, empowering an independence the national managed care company had not previously realized.
Billtelligent™ leverages a unique cloud-based, modular design focused on efficient bill handling through innovative strategies, supported by nimble technology. Billtelligent™ promotes flexibility through intelligent routing, automation, auto-adjudication and the ability to customize workflows with incredible specificity (without cumbersome management requirements). "We did not want to create another software for software's sake," said Eunhee Kim, EK Health's Owner & CEO. "With Billtelligent™, we have control at all levels and we can bring the change our industry deserves. We will be faster, flexible and more accurate. This gives us the ability to better optimize managed care strategies and improve quality of care for injured workers – which is our ultimate focus."
EK Health Services Inc. is keeping with its promise to transform the workers' compensation industry as an innovator dedicated to integrity, transparency, and customer-focused solutions. "We have been asked many times to 'demystify medical bill review', due to the unnecessary complexities, exorbitant fees and undisclosed revenue sharing that exists today," shared Zebrah L. Jahnke, VP of Business Development. "We knew offering transparency required full ownership of our processes and technology. The first step to breaking barriers is identifying them and then having the ability to actively affect change. Billtelligent™ does that – it allows us to dream and implement the absolute best processes that generate the greatest outcomes. Billtelligent™ is intelligent bill review."
Developing Billtelligent™ speaks directly to EK Health's belief that the work comp industry can be cutting edge, consistently offering fresh ideas. EK Health recognizes that providers should be paid faster, burdens should be reduced for claims adjusters, and intelligent workflows can promote reliable results. With advances in automation, and the implementation of their new technology, EK Health has written an exciting new chapter for the future of bill review through Billtelligent™.
"It was clear to me that we needed to be free from the constraints of leased software to fully realize our potential. With Billtelligent™ , we have direct access to PPOs, allowing us to create our own onboarding and custom network design," Kerri Wilson, EK Health's President & Chief Operating Officer explained. "Billtelligent™ is the start of a new journey towards client-choice and decision-making in bill review. This freedom results in increased bottom-line savings and provider/client satisfaction at all levels. We are embracing independence that empowers us to serve our customers nimbly without bias, and placing solutions before profits."
Benefits/Advantages
Billtelligent™ - a bill review technology built today, designed for tomorrow:

Stands alone in design, functionality, and customization
Was built from the ground up by EK Health, giving complete independence and ownership
Is a modern bill review technology designed to evolve
Removes barriers through automation & limitless creative workflows
Replaces complexity with simplicity
Supports EK Health client programs with reduced turnaround times
Ensures quality results through efficient execution
Key Features & Differentiators

Intelligent trigger-based routing for near real-time bill processing as the rule, batch processing as the exception
Real-time access; real-time status; real-time fixes - all before a bill is finalized
Sophisticated pended-bills load balancing to optimize workforce productivity
User-friendly, customizable client portal allows external users access to view bills for approval/denials within the bill's life-cycle
Highly configurable and flexible system requiring minimal code changes to introduce new features, adapt to future requirements and onboard new clients
Limitless unique bill routing workflows, automate agreements, and manage client-specific network structures
A process long driven by antiquated, cumbersome, and inflexible solutions is being revolutionized with EK Health's Billtelligent™. Through this innovative technology, EK Health is not just meeting clients where they are today, EK Health is taking them into the future with nimble solutions realizing immediate gains. For details on this enhanced bill review technology, visit ekhealth.com/Billtelligent.
About EK Health
EK Health Services Inc. is a leading national workers' compensation managed care organization. EK Health restores quality of life for injured workers through innovative, cost-effective solutions, while providing client services with high-touch experiences, customizable solutions, lower costs, and proven results. Their holistic approach integrates the best people, processes, and technology to facilitate the best medical treatment available for return-to-work possibilities. For more information, visit ekhealth.com.