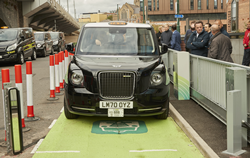 MELBOURNE, Australia (PRWEB) October 12, 2022
Lumen Freedom, a world leading manufacturer of wireless electric vehicle charging (WEVC) systems, announce that as of 27th September 2022 the Wireless Charging of Electric Taxis (WiCET) project went live using Lumen Freedom WEVC technology.
WiCET is a project funded by the UK's Office for Zero Emission Vehicles (OZEV) and delivered through Innovate UK, to assess the commercial and technical viability of deploying wireless charging for electric Hackney Carriages, with the potential to enable further electrification of transport that reduces emissions and improves air quality.
Five wireless ground assembly systems have been installed at the main city centre taxi rank in Nottingham (UK), and nine electric hackney carriages have been retrofitted with wireless vehicle assembly systems – five LEVC TX Taxis, and four Nissan Dynamo taxis.
Lumen Freedom have been working closely with the WiCET Project Team since the beginning of 2021 on the development of WiCET's technical requirements, whilst providing evaluation and development wireless charging hardware for the successful first phase of the project.
Electrification of taxi fleets in congested city areas is a crucial step in the reduction of transport emissions and improving air quality. The time taken for taxi drivers to recharge can reduce the driver's earning potential - cable charging is inconvenient and impractical at a taxi rank. Wireless charging provides drivers with the opportunity to recharge their vehicles whilst waiting for their next passengers.
Lumen Freedom's General Manager Rod Wilson said, "We're delighted to have been nominated as the wireless charger hardware supplier for the WiCET project and look forward to seeing wireless charging deployed across a wide range of applications from passenger cars to public transport and emergency vehicles."
Richard Sander, WiCET Project Manager and Technical Specialist at Cenex, said, "We are extremely proud to be starting the first public trial of wireless charging of taxis in the UK. This is a big step in understanding and demonstrating the potential of wireless charging as a core technology in the electric vehicle transition."
Wireless electric vehicle charging is a simple solution for charging electric vehicles and hybrid electric vehicles, without the fuss of having to plug-in. The efficiency levels of the Lumen Freedom WEVC systems are comparable to plug-in or conductive charging systems.
To learn more about Lumen Freedom, visit https://www.lumenfreedom.com/
To learn more about WiCET, visit https://wicet.co.uk/
About the Lumen Group and Lumen Freedom
The Lumen Group is a leading integrator of automotive systems. Lumen offers a full-service supply capability from design, through to manufacturing on a global basis. With over 30 years of experience in the automotive industry, Lumen is known for being highly efficient and flexible in meeting customer's needs.
Lumen Freedom, a member of The Lumen Group of companies, is dedicated to the design, manufacture, and integration of Wireless Electric Vehicle Charging (WEVC) systems. Lumen Freedom holds a license from WiTricity for the development and commercialisation of WEVC.