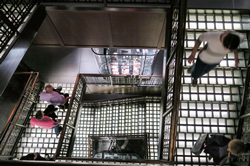 MEDINA, Ohio (PRWEB) October 25, 2022
Circle Redmont has launched a new website that reflects a change in ownership, new modern branding, and showcases modern applications of walkable glass.
Circle Redmont, an industry-leading supplier of glass flooring, now located in Medina, Ohio, was founded in the late 19th century. The company came together as a result of numerous contributors and predecessors collaborating. Those initial companies included American 3 Way-Luxfer Prism Company, Owens Illinois Glass Company, Products Research and Chemical Corp., Circle Steel Partition Company, and Rudy Redmont. In the 1960s, the Sandor family took ownership of the company and moved the focus to expertise in integrated structural glass systems.
In 2021, the newest generation of the Sandor family executed another shift in the company's history by making Circle Redmont a DBA of Light Penetrating Systems.
"We wanted a website that would immediately speak to architects and designers and provide inspiration as to the wow factor of glass," said owner Fred "JR" Sandor. "Our structural glass flooring, pavers, glass stairs, and vault lights lend themselves to showcase projects. We knew the site needed to carry that through and reflect the awe-inspiring work of our clients."
As part of the website redesign, a new, updated logo was developed for the Circle Redmont brand that incorporates the Light Penetrating Systems name. An easy-to-navigate product menu allows visitors to find information about Circle Redmont's flagship products like the Glass Bullets and Cast Iron Vault Lights or the Glass Pavers and Precast Concrete.
"We are really pleased with the direction our company is going, and we feel the website reflects that excitement," Sandor said. "I look forward to continuing to build our reputation for expertise and excellence in glass flooring applications for many years to come."
To learn more about Circle Redmont, visit the website http://www.circleredmont.com today.
##
About Circle Redmont
Circle Redmont has become the go-to source for architects and designers who need assistance in turning their visions into reality. Circle Redmont's structural glass products are defined by the company's commitment to both engineering and design, and they will last a lifetime.
Company Contact
Fred Sandor
Circle Redmont, DBA Light Penetrating Systems
1213 Medina Road Ste B
Medina, OH 44256
800.358.3888
http://www.circleredmont.com