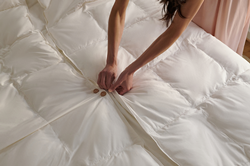 "Exhale was carefully crafted in an effort to not only innovate a product that has been the same for decades, but to bring our customers a functional alternative that delivers an unmatched sleep experience" - Mike Crowell, CMO, Coop Home Goods
COSTA MESA, CA (PRWEB) October 20, 2022
Coop Home Goods, a leading digitally native designer and marketer of the first fully adjustable pillow and ingeniously designed bedding to meet the unique needs of every type of sleeper, announced today the addition of its most innovative sleep product to date, the first ever Exhale All-Season Adjustable Comforter.
Exhale arrives on the heels of the massively successful launch of the Retreat Mattress Topper. Exhale will address several universal issues that consumers have always encountered with the comforter, such as…I'm always hot, and my partner is always cold, what can we do? How can we use just one comforter during every season rather than switching it out based on temperature?
Exhale is equipped with adjustable panels that can be removed or added on either side making it the perfect temperature to satisfy each sleeper, therefore allowing for flexibility from season to season. Now, couples with different sleeping preferences no longer have to compromise on their sleep experience. With its baffle box construction, Exhale maintains even distribution of fill and fluffiness, prevents fill migration, allows for maximum loft and eliminates cold spots.
"Exhale was carefully crafted in an effort to not only innovate a product that has been the same for decades, but to bring our customers a functional alternative that delivers an unmatched sleep experience, said Mike Crowell, CMO, Coop Home Goods. "Our goal has always been to produce products that will leave customers feeling more rested and revitalized than before, and we feel the Exhale All-Season Sleep Adjustable Comforter will do just that."
Made from only the best materials, and engineered to perfection, Exhale incorporates polyester microfiber fill and T300 cotton sateen to create not only a holistic product, but one that makes you feel like you're sleeping on a cloud. Additionally, Exhale's baffle box construction keeps everything in a consistent fill with no gaps or cold spots, equating to the perfect comforter on each side of the bed and for every season.
The Exhale All-Season Adjustable Comforter is available in Full/Queen and King/California King with varying prices for each component.
About Coop Home Goods
Coop is an innovation-driven home-goods company — a fast-growing direct-to-consumer home-goods brand that designs and markets adjustable memory-foam pillows and other bedding accessories, which are sold through the company's website and various e-commerce marketplaces. Further information on Coop can be found at coophomegoods.com.
Media Contact:
JMediaHouse
Jason Geller
jason@jmediahouse.com
212-920-0398