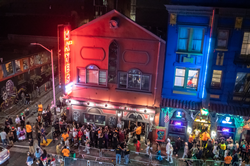 Over 10,000 people are expected to attend Crawloween, with over 40 participating bars and restaurants.
SAN FRANCISCO (PRWEB) October 24, 2022
CrawlSF's three-day Halloween event takes place at over 50 bars in Polk Gulch, Russian Hill, North Beach, Nob Hill, The Tenderloin, The Marina and Cow Hollow and features drink specials at every bar, a costume contest, DJs and free party bus rides.
CrawlSF, a local marketing and events company, has produced events in the San Francisco Bay Area since the company was founded in 2003. Beginning as a small event startup that was initially inspired by large, East Coast bar crawls attended by the founder, Matt Seliga, has now grown into a successful, San Francisco-based company that produces numerous annual events that attract tens of thousands of people throughout the year. CrawlSF has produced many popular events including The LepraCon St. Patrick's Day Pub Crawl, Streets of San Francisco New Year's Eve (Fort Mason Festival Pavilion), Summersalt Music Festival, Crawltiki, San Francisco Mardi Gras, The North Beach Bar Run, Wintersalt Music Festival, The San Francisco Burger Brawl, Taste San Francisco, SweaterCon and more.
2022 brings the 10th Annual San Francisco Halloween Pub Crawl, which is expected to bring well over 15,000 people over 3 days to celebrate Halloween in SF. Participating Bars include California Jack's, R Bar, Mayes Oyster House, Del Mar, El Lopo, Mcteagues Saloon, Tupelo, Lush Lounge, Tope, Barley, The Boardroom, Shanghai Kelly's, Northstar Cafe, Nick's Crispy Tacos, Wreck Room, Bamboo Hut, Zeki's Bar, Outre, Emperor Norton's Boozeland, Shovels, Silver Cloud, Amsterdam Cafe, Comet Club, Trade Routes, Nitecap, Westwood, Gino & Carlo, Tony Nik's, Campus, Chief Sullivan's, The Outsider, Jaxson, Geary Club, Blue Light and more. The Pub Crawl will take place on Friday, October 28, Saturday, October 29 & Monday, October 31.
Tickets for Crawloween range from $12 to $45 with prices rising as the event date gets closer. Ticket price includes access to drink specials at all participating bars, free cover at all bars, a costume contest, party favors, free party bus rides, DJs and more.
Full details for the event are available at: https://www.crawloween.com
About CrawlSF
A local San Francisco company that launched in 2003, CrawlSF was created after the founder, Matt Seliga, relocated from Baltimore to the San Francisco Bay Area for a job in Biotech. As a new transplant to San Francisco (and after feeling the effects of the high cost of living in San Francisco), Matt worked in his spare time to bring the pub crawl concept to San Francisco, which allowed him to meet new people and earn some extra money on the side. Ultimately leaving his Biotech career behind in 2008, Matt has mainly focused on building the CrawlSF brand. Also the Co-Founder of Eye Heart SF, M Ride and Pinchit.com, Matt has developed several businesses in the marketing and events vertical. Since 2003, CrawlSF has produced over 200 Bay Area events with well over 300,000 attendees and CrawlSF.com serves as a guide for locals and visitors who are looking for things to do in the San Francisco Bay Area. The company is owned and operated by Matt and his wife, Caitlin. CrawlSF Signature Events include:
LepraCon SF (St. Patrick's Day Pub Crawl)
SanFranCinco (Cinco De Mayo Pub Crawl)
The San Francisco Fourth of July Pub Crawl & Hot Dog Eating Contest
Crawltiki (San Francisco Tiki Party Pub Crawl)
Crawloween (Halloween Pub Crawl)
SweaterCon (Ugly Sweater Pub Crawl)
For more information on CrawlSF, please visit https://www.crawlsf.com