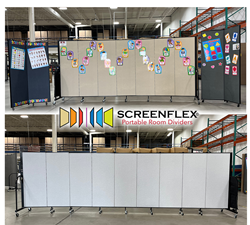 "The [Screenflex] online chat consultation feature gave us quick cost information. The shipping timeline was much faster than expected. We have our partitions ready for use in our classroom well ahead of staff and students returning from the summer!" - Todd Baughman
PORTLAND, Ore. (PRWEB) October 26, 2022
Since 1988, Screenflex Portable Room Dividers have been a trusted source for classroom space division and continue to prove their superior quality. Furniture dealers, designers, and teachers use Screenflex partitions more than ever in educational facilities. EDmarket, a widely-known educational tool marketplace, asked Screenflex to be one of the highlighted manufacturers in their Edmarketspace Classroom display at their annual conference, EDspaces.
The Edmarketspace Classroom is a staged experience at the tradeshow that highlights some of the best classroom items from innovative suppliers. The Screenflex products used in this exhibit include two 3-panel Display Towers in Sea Green and Summer Blue colors, one 6 feet tall x 9 feet 5 inches in length Standard Room Divider in Sand color, and one 5 feet tall x 16 feet 9 inches in length Vinyl Room Divider in Blue Tide color.
Screenflex prides itself on its freestanding partitions being capable of adapting to any environment. In general, portable walls in a school setting can have a lot of different uses. The fabric-covered dividers quickly create multiple smaller classrooms out of one larger space and can easily have items tacked onto them. This separation offers students and educators the necessary privacy to limit distractions while learning.
Oakdale Elementary, a school nearby to the EDspaces event in Oregon, purchased Screenflex Dividers in August 2022. The goal these educators wanted to achieve with their partitions was limiting visual and auditory distractions. Based on feedback from the room divider company, this school loves the product and efficient delivery. Screenflex's contact, Todd Baughman, said this about their service:
"The [Screenflex] online chat consultation feature gave us quick cost information. The shipping timeline was much faster than expected. We have our partitions ready for use in our classroom well ahead of staff and students returning from the summer!"
By regularly giving educators excellent caliber service and products, Screenflex continues to emphasize its place as the frontrunner supplier of classroom room dividers.
To find out more about Screenflex products for your school, visit them at their EDspaces booth #1541 or go to their website at https://www.screenflex.com/