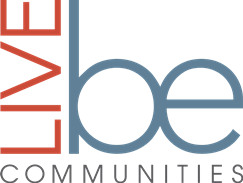 Our LIVEbe Ambassadors are who truly make the difference. People want to live where they know they'll be taken care of, and our team members do a tremendous job making it happen.
ROCKVILLE, Md. (PRWEB) October 27, 2022
LIVEbe, a premier apartment developer and operator dedicated to delivering distinct apartment homes within connected communities, today announced that The Remy Phase II has been recognized with a Delta Associates Excellence Award as a co-winning property in the category of Best Lease-Up Pace for a Suburban Maryland Apartment Community.
The Remy Phase II, a 268-home apartment community based in the Harkins District of Lanham, Md., began leasing in early 2022 and joined the thriving original phase, which opened in 2017. LIVEbe was presented with the award on Oct. 20 at the Delta Associates' 26th Annual Apartment and Condominium Industry Awards for Excellence in Washington, D.C.
The original phase was recognized with the same award in 2018.
"Our mantra when we opened Phase II is that now we have two of everything," said Jayme Martin, community director of LIVEbe. "We understood that it might be difficult to match the brisk lease-up pace of the original building, but once again, our wonderful team was able to make it happen. We're honored to be recognized by Delta Associates and will keep working to deliver a best-in-class experience at The Remy buildings."
The Remy Phase II has averaged 29 move-ins and 60 applications per month since beginning preleasing in Nov. 2021. The community delivered first homes in early February. Delta Associates calculates lease-up pace from the beginning of lease-up through stabilization.
Located at 7700 Harkins Road, The Remy Phase II offers studio, one- and two-bedroom homes with various layouts and an average square footage of more than 750. Community amenities include a resort-style saltwater pool and sundeck, rooftop lounge, two courtyards, outdoor fitness equipment, grilling stations, clubrooms and game rooms, billiards and bocce ball, Smiota package lockers, refrigerated lockers and resident lounge areas throughout the common areas. The community also caters to the ever-increasing remote worker with teleworking spaces and a conference room. The Remy also offers various specially curated events designed to bring residents together.
Apartment interiors at The Remy Phase II emanate an abundance of natural light due to the size and scope of the interior windows. Homes are delivered with luxury engineered plank flooring, stone tile bathrooms, in-home washers and dryers, keyless entry, chef-inspired kitchens with custom cabinetry, quartz countertops, stainless-steel appliances and oversized interior windows to maximize the presence of natural light.
"Our team of ambassadors deserves all the credit for this honor," said Elaine De Lude, vice president of LIVEbe. "While the amenities and home features can certainly draw the attention of potential residents, our LIVEbe Ambassadors are who truly make the difference. People want to live where they know they'll be taken care of, and our team members do a tremendous job making it happen."
About LIVEbe
Headquartered in Rockville, Md., LIVEbe was founded in 2016 and is helmed by multifamily veterans Elaine De Lude and Jennifer Rucker. LIVEbe is the multifamily division of Berman Enterprises and was established with a specific focus on fostering a sense of community by offering an unparalleled living experience for residents and employing LIVEbe Ambassadors who are forward thinking and passionate about providing exceptional customer service.
About Berman Enterprises
Berman Enterprises is a multi-generational real estate and investment company founded on the principles of honesty, integrity, hard work, hands-on management, community and philanthropy. Employing a conservative financial strategy, Berman Enterprises has experienced sustained growth since brothers Melvin J. Berman and I. Wolford Berman founded the company in 1952.
Today, the Company and its affiliates own and manage more than 9 million square feet of commercial office, retail, industrial/flex and residential properties in Maryland, Virginia, Illinois, North Carolina and Pennsylvania. The Company also owns several hundred acres of developable land representing thousands of units of residential and hundreds of thousands of square feet of commercial and retail development potential.