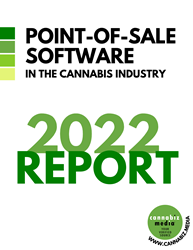 "The top five vendors account for 60% of 2022 U.S. market share."
GUILFORD, Ct. (PRWEB) November 07, 2022
Cannabiz Media, the company behind the leading License Database of cannabis and hemp license holder data, has released the fifth annual report providing critical data and insights about point-of-sale (POS) software market share in the cannabis industry. The Point-of-Sale Software in the Cannabis Industry – 2022 Report marks the first year that Canadian POS vendors and POS station data have been included in the report.
The Cannabiz Media research team made approximately 34,000 outbound phone calls to survey U.S. and Canadian stores about their current POS software use. The data included in the final report represents 38% of the U.S. market and 37% of the Canadian market.
"The U.S. point-of-sale software market in the cannabis industry stayed stable from 2021 to 2022 in terms of the number of providers in use at 79," says Ed Keating, Cannabiz Media's co-founder and Chief Data Officer. "However, there were changes. Some providers dropped off the list while others entered. The top five vendors, which account for 60% of 2022 U.S. market share, changed slightly with Leaflogix moving to the third spot."
In 2022, the top five POS software vendors in the U.S. cannabis industry are 1) Greenbits, 2) BioTrack, 3) Leaflogix, 4) Flowhub, and 5) MJ Freeway.
Keating explains, "Leaflogix had the biggest market share increase this year among the leading POS vendors. The provider almost doubled its market share from 6.3% to 11.9%. The data gets even more interesting when you roll up the POS software vendor providers to their parent companies and look at combined market share."
Dutchie, which owns Greenbits and Leaflogix, is up 41% over last year – more than double the growth of Akerna, which saw the second highest growth among parent companies from its combined MJ Freeway, Viridian, and Dynamics 365 brands.
The POS software market in Canada includes 53 providers, but the leaderboard is dominated by COVA and Greenline, which hold nearly 74% market share combined (47% and 26%, respectively.
Across North America, fewer retailers and dispensaries switched to a different POS software in 2022 compared to 2021. "In our 2021 report, we found 298 U.S. license holders switched POS software vendors, which was up significantly from the 120 switches we tracked in 2020," shares Keating.
In 2022, the number of switches dropped closer to 2020 levels at 176 U.S. switches. Drilling down to the state level, the states with the most brand switching in 2022 have been Oklahoma, Colorado, and Washington. Cannabiz Media also tracked switches in Canada for the first time in 2022 and found 46 switches among Canadian license holders.
A new addition to the report is the inclusion of data related to the number of point-of-sale stations dispensaries and retailers have at their stores. Based on the stores that shared this data with Cannabiz Media's research team, the median number of POS stations is three.
Subscribers to the Cannabiz Media License Database can dig deeper into this data by activating premium point-of-sale dashboards on their accounts. Using the POS dashboards, subscribers can analyze POS provider market share by state, market, timeframe, and more.
Download the free report here: https://www.cannabiz.media/2022-pos-report
About Cannabiz Media
Cannabiz Media manages the leading License Database of cannabis and hemp license holder data containing verified information on over 40,000 licensed cannabis and 30,000 licensed hemp operations across the United States, Canada, and numerous international markets. Subscribers can access this data through an easy-to-use platform in multiple ways. Sales and marketing teams can find contact information for license holders, segment their target audiences, and then tap into a powerful email marketing tool. And financial analysts, investors, and legal advisors can leverage Cannabiz Intelligence to conduct comprehensive financial analysis, target mergers and acquisitions (M&A), and research valuations. Cannabiz Media was established in 2015.