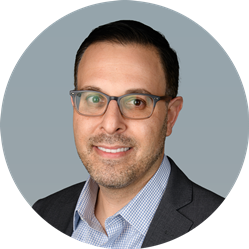 We're very fortunate to welcome Dan Ginsberg back as we continue to experience strong global demand, and PE portfolio companies seeing increasing cost and cash challenges
BOSTON (PRWEB) November 08, 2022
Global supply chain and operations management consulting firm, SGS Maine Pointe, a member of the SGS Group, announced today that industry thought leader Dan Ginsberg will rejoin the firm as Managing Director of the Private Equity practice. With over 20 years of experience, including a decade focused on the Private Equity market, Ginsberg has an impressive track record of projects, delivering over $900M in measurable benefits and even more in exit values.
Over the course of his career, Ginsberg has provided support to company management, private equity sponsors, and other stakeholders in realizing EBITDA and cashflow results through strategic and operational performance improvement initiatives and M&A services. He has worked closely with growing, stable, and distressed middle-market businesses across more than 250 projects.
"I am delighted to return to what is now the #1 supply chain consultancy in North America," said Ginsberg. "SGS Maine Pointe has become a leader in enabling businesses to overcome their most challenging supply chain and operations issues, exceed their financial goals despite headwinds, and now also meet ESG targets while creating value. For SGS Maine Pointe and our clients, a key strategy in achieving these goals is use of our Total Value Optimization approach, which drives value throughout the lifecycle through exit."
Ginsberg had previously served as a leader in the Private Equity practice at SGS Maine Pointe, focusing on value creation and implementation. Over the course of his successful career, he has also served as Managing Director of both Hilco Global and GHValens, and he also served as Managing Director of Mitchell Madison Group and Hackett Group, where his focus was on supply chain and working capital performance yielded great client outcomes.
"Dan has a long and successful track record in private equity," said Jeff Staub, CEO of SGS Maine Pointe. "We're very fortunate to welcome him back as we continue to experience strong global demand, and PE portfolio companies seeing increasing cost and cash challenges."
Ginsberg studied economics at George Washington University, where he graduated magna cum laude.
About SGS Maine Pointe
SGS Maine Pointe, a member of the SGS Group, is a global supply chain and operations consulting firm trusted by many chief executives and private equity firms to drive compelling economic returns for their companies. We achieve this by delivering accelerated, sustainable improvements in EBITDA, cash and growth across their operations, procurement and logistics. Our hands-on implementation experts work with executives and their teams to rapidly break through functional silos and transform the buy-make-move-fulfill supply chain to deliver the greatest value to customers and investors at the lowest cost and risk to business. We call this Total Value Optimization (TVO)™.
SGS Maine Pointe's engagements are results-driven and deliver between 4:1-8:1 ROI. We are so confident in our work and our processes that we provide a unique 100% guarantee of engagement fees based on annualized savings.
About SGS
We are SGS - the world's leading testing, inspection and certification company. We are recognized as the global benchmark for quality and integrity. Our 96,000 employees operate a network of 2,700 offices and laboratories, working together to enable a better, safer, and more interconnected world. SGS has been delivering ESG and sustainability solutions and services to clients for the past 25 years and has been a carbon-neutral company for the past seven years.