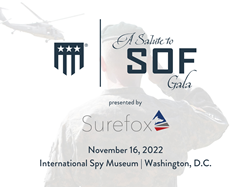 "Since our creation, THF has received tremendous support from both sides and every corner of our nation's capital, so it only seems right that we bring this event to DC." -- Matt Stevens, THF CEO
WASHINGTON (PRWEB) November 10, 2022
On Wednesday, November 16th, The Honor Foundation (THF) will hold A Salute to SOF Gala at the International Spy Museum in Washington, DC. Presented by Surefox North America, the event—which will be held in the nation's capital for the first time—will feature a fireside chat with special guest, General Stanley A. McChrystal, (USA, Ret.) and marks another year of strategic growth for the Veteran-founded, 501(c)(3) nonprofit.
Sending The Elevator Back Down
Over the last two years, a significant evolution has taken place in the Global War on Terror. With it, comes a generational shift among active-duty ranks, as post-9/11 service members transition to civilian life. That exodus is certainly being felt across the Special Operations Forces (SOF) community, which saw two decades of sustained combat—a first for America's military.
"The brave men and women who have spent most of their careers as our Nation's warriors deserve a seamless transition to the civilian workforce after their years of service," said THF CEO, Matt Stevens. "While many may be facing this challenge for the first time, they certainly won't be doing it alone. We have a saying in this community: 'when you get off the elevator, make sure you send it back down for the next guy.' That is what we are working to do for the next generation of SOF members who will soon be standing where we once stood—sending the elevator back down."
Just this year, the organization has expanded to serve more members of the SOF community by adding two additional physical campuses in Florida—located at Eglin and Tampa, respectively—for a total of six brick and mortar facilities along with two virtual campuses. In total, THF has over 1,600 alumni who have completed the three-month, immersive program.
"We're excited about hosting the Salute to SOF Gala in DC for the first time," added Stevens. "Since our creation, THF has received tremendous support from both sides and every corner of our nation's capital, so it only seems right that we bring this event to DC. We're honored to announce General Stanley A. McChrystal (USA, Ret.) as the featured speaker for the evening. It's also nice to have like-minded, Veteran-centric partners, like Surefox, our presenting sponsor, to help light our path and pave the way forward—in Washington, DC and beyond."
"It is an honor to support THF as it continues to grow and make incredible impacts on the men and women who have given so much for our great country," said Brian Sweigart, Surefox Chief Operating Officer. "We share the same mission to help deliver a great transition for our veterans. It is an amazing experience to know that our ongoing support for the organization combined with our commitment to mentoring the veterans who go through the THF program is changing lives."
Surefox has been a key partner for THF's national engagement and expansion. The security consulting firm was founded by combat veterans, in 2016, and has expanded to over 700 employees, more than 80% of whom are veterans.
"For many veterans returning to civilian life, it's hard to find a purpose. We founded Surefox to create jobs for veterans and to create a soft landing for the men and women returning home from duty," Josh Szott, Surefox Chief Executive Officer. "Much like THF, Surefox knows the skills, professionalism, and values veterans bring to a career and we are proud to continue our support for the organization. Like THF, Surefox remains committed to finding career opportunities for our returning military personnel."
The Salute to SOF Gala will provide an elegant evening of celebration and support for past, present, and transitioning generations of Special Operations warriors. At 6pm, a ticketed VIP reception with Command Sergeant Major William F. Thetford (USA, Ret.) will take place on the rooftop terrace of the International Spy Museum. The gala will begin at 7pm and feature General Stanley A. McChrystal (USA, Ret.) for a special fireside chat.
The Sit Rep
The Honor Foundation: "A Salute to SOF Gala" presented by Surefox
Wednesday, November 16, 2022
VIP Reception 6-7pm (Rooftop Terrace)
Gala 7-10pm
The International Spy Museum | 700 L'Enfant Plaza SW, Washington, DC 20224
For VIP reception, tickets, and sponsorship opportunities: Renee Booth, renee@honor.org
For all media access and inquiries: Doug Eldridge, doug@achillespr.com
About the Honor Foundation
The Honor Foundation (THF) is a career transition program for U.S. Special Operations Forces that effectively translates their elite military service to the private sector and helps create the next generation of corporate and community leaders. It achieves this through a three-month program which provides tailored executive education, one-on-one coaching, and access to a nationwide professional network. This program was built by the desire to serve others with honor for life, so that their next mission is always clear and continues to impact the world. Every step is dedicated to preparing these outstanding men and women to continue to realize their maximum potential during and after their service career. The Honor Foundation has 1,600+ graduates to date and has campuses in San Diego, CA; Virginia Beach, VA; Camp Lejeune, NC; Fort Bragg, NC; Eglin, FL; Tampa, FL; and two virtual campuses (THFv). The Navy SEAL Foundation is a Founding Partner of The Honor Foundation. For more information: http://www.honor.org.
About Surefox North America
Surefox North America is a trusted leader in private security and risk management consulting services. The firm was founded in 2016 by combat veterans who saw an industry-wide need for the planning, skills, and support veterans could provide. By blending military professionalism with our unique client cultures, we create a space for our security professionals to draw upon their broad range of experiences to meet client needs with the highest level of professionalism and discretion.
Surefox's diverse team of military and law enforcement professionals have built an inclusive community and culture that differentiates us from our competitors. More than just a security provider, Surefox sets a new standard on how security providers operate and what a security provider should be.