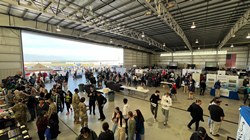 "We work with our sponsors to inspire students to discover and pursue their passion for the skies." - Julie O'Brien, ProJet Aviation GM, and Cofounder of the Expo
LEESBURG, Va. (PRWEB) November 09, 2022
ProJet Aviation hosted the 16th annual Aviation Education & Career Expo at the Leesburg Executive Airport. More than 800 students, educators, and parents attended the Expo, designed to educate young adults (ages 16-22) about exciting careers in aviation. The event featured keynote speakers, live demonstrations, and representatives from over 70 aviation organizations, including the US military, emergency medical airlift, law enforcement, maintenance/avionics repair, government agencies, private aviation, and more. "The theme for this year's event was – The sky is NOT the limit," said ProJet Aviation's Julie O'Brien, Co-founder of the Expo. "We work with our sponsors to provide experiences, mentoring, and scholarships that inspire students to discover and pursue their passion for the skies."
The Aviation Education and Career Expo is a unique opportunity for students interested in the aviation/aerospace industry to explore numerous career paths and talk one-on-one with industry experts. Students get an "up close and personal" look at occupations in high demand in the United States and worldwide.
Guest speakers and demonstrators included:

Shye Gilad, Cofounder and CEO, ProJet Aviation
Leesburg Mayor Kelly Burk
Frank Culbertson, Retired NASA Astronaut and Commander of the International Space Station
Heidi Kemner, NTSB Accident Investigator
Emily Daniel, Agricultural Pilot and Demonstrator
The US Army Golden Knights Parachute Jump Team
The US Air Force Honor Guard Drill Team
Garda World Federal Services – K-9 Unit
PHI Medevac Air Care 3
Legacy Awards honored the contributions of four inspiring aviation and aerospace industry professionals:
Sarah Thompson - Original Co-Founder of the Aviation Education Expo. Sarah Thompson's family was awarded the honorary Jump Baton, by the US Army Knights, for her pivotal role in founding the event.
Joe Goodin – A Naval Aviator local to Leesburg and a mentor to students through the Young Eagles program
Paul Davy – USAF officer and later the Director of Marketing and Business Development for Port City Air in NH
Elaine D. Harmon – WWII WASP, received the Congressional Gold Medal and was afforded full military honors at Arlington National Cemetary
2022 scholarship winners and sponsors:
Mackenzie Taylor - Aviation Adventures
Rahul Kagalwala - Aero Elite Flight Training
Logan Reuter - Open Air Flight Training, The Aviation Foundation, and Cirrus Aircraft Sales
Navid Farzanpay - Bravo Flight Training
Brennay Nicola - Women in Aviation
Stephen Wilson - Goose Creek Aviation
Nicholas Baker - Air Line Pilot's Association
Navid Farzanpay - JetLinx and Direct Tailwinds
Aesha Kapoor - Paragon Aviation Detailing
Akul Singhal - Paragon Aviation Group and Port City Air
Myles Olsen - Smokehouse Pilot's Club
Christopher Alexander - Greater Washington Business Aviation Association
Jaye Datan - ProJet Aviation, The Hoxton Agency, AOPA, and Avemco Insurance
Lawson Hambrick - Paramount Business Jets
Ashley Nguyen - Pelican Aircraft Consulting
Connor Sloan - Pittsburgh Institute of Aeronautics
Francis Gordon - The Unmanned Safety Institute
Luke Manson - 1st Chime Privé In-Flight Catering, and the Community College of Baltimore County
Austin Rhodes - Saint Francis University
Nathanial Denault - Saint Francis University
Bea Isabelle Kee - Vaughn College of Aeronautics and Technology
Ian Powell - Marywood University
Kartikeya Vinaykumar - Averett Univeristy
Samantha Smith - Embry Riddle Aeronautical University
In addition to scholarships, numerous paid internships were also awarded. Toth Financial, Weird Bros. Coffee, 1st Chime in-flight catering, Little Caesars, Passion Fin, COSTCO, and Wegman's sponsored breakfast and lunch for the students and vendors.
#####
About The Aviation Education & Career Expo The Aviation Education & Career Expo is one of the largest and most successful aviation education events in the United States, awarding, to date, over $1.3 million in scholarships to high school and college students pursuing careers in the aviation and aerospace industry since its inception in 2005. Cofounded by aviation professionals Julie O'Brien and Sarah Thompson, the Expo is committed to helping students explore the many career opportunities available through the world of flight. ProJet Aviation hosts the Aviation Education & Career Expo at Leesburg Executive Airport (KJYO) in Leesburg, VA.
About ProJet Aviation
ProJet Aviation is the DC metro region's premier aviation hospitality company, dedicated to helping people accomplish extraordinary things through the wonder of flight. The company operates ProJet Center, a Fixed Base Operation (FBO), at Leesburg Executive Airport (KJYO), general aviation's gateway to Washington DC, Dulles, and Virginia's Horse & Wine Country. Established in 2007 as a partnership between former airline pilot, educator, and entrepreneur Shye Gilad and noted entrepreneur and philanthropist Sheila C. Johnson, Founder & CEO of Salamander Hotels and Resorts, ProJet Aviation combines the operational integrity of the world's best airlines with the refined service of a world-class resort. ProJet's numerous accolades include recognition as a Washington Business Journal Best Place to Work, Loudoun County Chamber of Commerce Service Business of the Year, and an Inc. 500/5000 Fastest Growing Company.