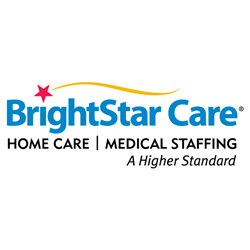 GURNEE, Ill. (PRWEB) November 09, 2022
BrightStar Care, the leading nationwide home care and medical staffing franchise known for providing the highest standard of quality home care, celebrated milestones and commemorated achievements at its 2022 Annual Conference. The conference was held in Henderson, Nevada at the M Resort from October 25-27 and featured content-rich sessions, presentations, and more. BrightStar Care also honored the winners of its annual Nurse of the Year and Caregiver of the Year awards and its Franchisee of the Year and Rookie of the Year.
This year's Nurse and Caregiver of the Year award presentation came as a heartwarming surprise, as BrightStar Care CEO and Founder Shelly Sun recognized all eight regional honorees as national winners, granting each recipient a $5,000 reward. BrightStar Care's nurses and caregivers are the heart and soul of the company, and it is extremely important to the organization to dedicate time each year to honor and celebrate them. In August 2022, BrightStar Care recognized four nurses and four caregivers as regional Nurses and Caregivers of the Year. Now all eight honorees are national winners.
Nurse of the Year national honorees include:
· West Region Winner: Jayne Maher of BrightStar Care Bedford/Manchester, New Hampshire
· Northeast Region Winner: Janet Howell, BSN, RN of BrightStar Care Honolulu, Hawaii
· Southeast Region Winner: Carmen Streete, HHA of BrightStar Care S. Charlotte, North Carolina
· Midwest Region Winner: Bridgete Biggs, CNA of BrightStar Care Naperville, Illinois
Caregiver of the Year national honorees include:
· West Region Winner: Ubong-Abasi James Edemenang, CNA of BrightStar Care Salt Lake City, Utah
· Northeast Region Winner: Linda Santos, RN of BrightStar Care Stroudsburg, Pennsylvania
· Southeast Region Winner: Kandi Peterson, RN of BrightStar Care S. Charlotte, North Carolina
· Midwest Region Winner: Julie Govier, LPN of BrightStar Care Overland Park, Kansas
In addition, BrightStar Care also recognized 70 franchise owner groups across 19 different award titles for their clinical excellence, commitment to their clients, financial growth, expansion within their territories, and their contributions to the brand's continued success.
Among the winners were:
· Franchisee of the Year: Chris Miller, Owner and President of BrightStar Care of East Lansing was recognized for his excellent work advocating to preserve home care services in the state of Michigan following the challenging no-fault auto law that went into effect in 2021.
· Rookie of the Year: Giselle and David Bardwell, owners of BrightStar Care of Cuyahoga West, were awarded for their tremendous financial achievements as new owners over the past year.
"BrightStar Care would not be where it is today, celebrating 20 years, without the outstanding work of our best and brightest, this includes our incredible nurses, caregivers, and franchisees," said Shelly Sun, CEO and Founder of BrightStar Care. "These awards highlight the interconnectedness between our nurses, caregivers, and franchise owners as they work together to deliver the highest standard of care to thousands of moms, dads, grandmas, and grandpas. I wholeheartedly believe that each of our regional nurse and caregiver winners deserved national recognition as the care they deliver has made a lasting impression on the lives of our clients and the entire BrightStar Care network."
The eight nurses and caregivers who were recognized were nominated by BrightStar Care clients, family members of clients, and/or BrightStar Care employees. The Franchise of the Year and Rookie of the Year winners were nominated and chosen by BrightStar Care's Franchise Support Center team. When selecting these winners, BrightStar Care examined significant milestones reached by owners across its franchise network, their impact on the industry and their communities, and their financial achievements over the past year.
In addition to the awards announced at the conference, BrightStar Care also recognized owners Lisa Marie Swiatkowski and Jim Boone of BrightStar Care Venice and Port Charlotte, Florida for their outstanding leadership in guiding their team through the challenges of Hurricane Ian. Swiatkowski and Boone's locations in Florida were severely impacted by the hurricane yet their nurses, caregivers and administrative teams sprang into action to ensure high-risk clients were attended to and safe, despite their own loss of personal property and personal hardships from the hurricane.
Following the events of Hurricane Ian, BrightStar Care locations across the country created a GoFundMe fundraiser to support Swiatkowski and Boone's locations. In total, the GoFundMe accounts raised $55,000. This fundraiser showcased how the BrightStar Care network came together to financially support their team members in need. BrightStar Franchising contributed the initial $10,000 to start the GoFundMe and additionally granted the BrightStar Care Venice and Port Charlotte locations a donation of $26,000 to specific caregivers, nurses and office staff directly impacted by the hurricane in addition to scrubs, PPE and other essential items to keep the agencies operating and safe.
For more information about BrightStar Care's nursing and caregiving opportunities or information on care services, please visit http://www.brightstarcare.com. For information on BrightStar Care franchising opportunities, please visit http://www.brightstarfranchising.com.
About BrightStar Care:
Founded in 2002, BrightStar Care is a national home care agency with more than 365 franchised locations nationwide that provide medical and non-medical in-home care services to clients in their homes and supplemental care staff to businesses. BrightStar Care franchise agencies across the country employ over 15,000 caregivers and 5,700 registered nurses who oversee the care and safety of each individual client. BrightStar Care offers custom medical staffing solutions to corporate entities and holds national accounts with government agencies across distinct patient populations providing healthcare staff anywhere care is needed. Female founded and led by CEO Shelly Sun, BrightStar Care is committed to providing a higher standard of care through its clinical nurse-led care model. As a member of Moving Health Home, BrightStar Care also actively advocates to change federal and state policies that prevent the home from being an accredited clinical care site. More than 95% of BrightStar Care agencies are Joint Commission accredited – the gold standard within the health care industry. BrightStar Care has also been the only national home care franchise to consecutively receive The Joint Commission's Enterprise Champion for Quality award for the past decade.