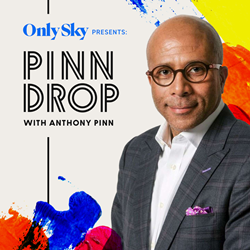 "In today's climate, the voices of those who identify as secular and humanist are more important than ever, especially those who have traditionally been marginalized by mainstream media," said Dr. Anthony Pinn.
MENLO PARK, Calif. (PRWEB) November 16, 2022
Though nearly 1 in 3 US adults now claim 'no religion', the nonreligious are subject to deeply-rooted distrust and stigma at the social, professional and personal level. Because religion plays a prominent role in African American and Latino cultures, the situation for nonreligious people of color at the intersection of marginalized identities is even more difficult.
To better understand and support these emerging demographics, OnlySky is launching The Color of Disbelief, a nine-month news initiative to study Black and Latino nonreligious individuals and communities in the US and to report their stories.
OnlySky Media and The Color Of Disbelief has been selected for the Google News Equity Fund to empower a diverse news ecosystem, strengthen inclusion, and support the creation of original journalism for underrepresented audiences.
Pinn Drop is a new podcast launching today that will focus on the human act of creation, hosted by renowned humanist author and professor Dr. Anthony Pinn. Author of 35 books, Pinn has established himself as the pre-eminent writer and scholar of the Black nonreligious experience. Pinn Drop is available now on Apple Podcasts, Spotify, and other popular podcasting apps, as well as at OnlySky.Media.
"OnlySky is pleased to be selected by Google's News Equity Fund, and we are honored to launch this new initiative with the talented Dr. Anthony Pinn, and for the opportunity to amplify his unique and important voice," said Shawn Hardin, Founder and CEO of OnlySky Media. "The secularization we are witnessing in communities of color across the country is consequential, and an underreported aspect of the profound changes underway in US demographics."
In Pinn Drop, Dr. Pinn interviews well-known secular creative professionals, starting with writer Sasha Sagan on the human impulse to create meaning through ritual and tradition, and continuing in episode two with historian Christopher Cameron on the intersection of Black culture and religion. The episodes will dive deep into the lived experience of creators, with special emphasis on the contributions of secular people of color.
"OnlySky serves the nonreligious community with a diverse slate of creative voices exploring the whole human experience from a secular point of view," said Dr. Anthony Pinn. "In today's climate, the voices of those who identify as secular and humanist are more important than ever, especially those who have traditionally been marginalized by mainstream media."
There is also a research component to The Color Of Disbelief, overseen by a team of prominent social scientists and research professionals, including: Dr. Juhem Navarro-Rivera, Dr. Adrian Pantoja, Dr. Evan Stewart, and Dr. Phil Zuckerman. Working together, they will obtain the most accurate picture to date of these two underserved demographics. Their work will be reported and supplemented with interviews conducted and reported on by OnlySky news editor Tatiania Perry and other OnlySky reporters and contributors in Washington DC, Los Angeles, and Phoenix, all rapidly secularizing cities with large Black and Latino populations.
OnlySky Media is an independent digital media company dedicated to protecting America's secular democracy through journalism, storytelling, and commentary. The company is focused on serving 84 million religiously unaffiliated Americans across digital, podcasts, streaming, live events, video and social media. OnlySky is a mission-driven company, and our content and community platform are designed to inspire cultural and civic engagement.
Press contact for interviews with Shawn Hardin, Dale McGowan (OnlySky chief content officer), or Dr. Tony Pinn: Kristen Chase, kristen@onlysky.media, 678-575-2454