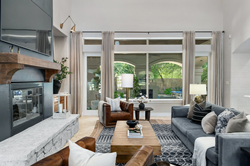 With a budget of less than $20k, Norton and her team proved that a complete transformation isn't just possible; it's completely doable for the typical homeowner.
AUSTIN, Texas (PRWEB) November 18, 2022
Even in Texas, bigger isn't always better. Interior Designer, Lourdes Norton, has taken this over-the-top Tuscan mansion and converted it into a peaceful retreat.
The original design was full of warm palettes and coarse textures like stone. And though welcoming, these features can border on stifling. The complete redesign has made the home a cool and calm meditative hideaway.
Now, the home's sleek lines and modern simplicity are balanced by light cottage influences. Covering a majority of the house, this project comprised four rooms: the living room, dining room, kitchen, and breakfast nook.
Only a few decades ago, the Texas Tuscan concept would have represented the peak of luxury and fashion. But it leaned hard into a themed ambiance, becoming a too-literal getaway to the Italian countryside. The heavy-handedness used in turn-of-the-century looks is just a little overwhelming 30 years later.
In the living room, Lourdes and her team updated and refitted shelving surrounding the fireplace for a more symmetrical and intentional look. They extended alcoves to match the fireplace length, creating clean lines that echoed the size of the room. Norton left the mantle short to emphasize the scale of the fireplace and used wood accents to tie in the ceiling.
Painting the fireplace dark gray was a brush stroke of genius, as it created a strong focal point. The room mixes neutral colors in the armchairs, couch, and coffee table, taking the space from just plain natural to genuinely organic.
Norton pulled a new table into the dining room with a stunning herringbone pattern. She created depth by adding different textures like a bowl of moss, angular plants, and circular lamps on the nearby hutch. Painting the alcove on the ceiling highlighted the different layers of the space.
Using Sherwin Williams' Agreeable Gray as a wall color throughout the home became a thread of consistency from room to room. "The key is to simplify the pallet and clean the lines," says Norton. "Once you do this, you will appreciate the architectural details more."
But cohesive palettes weren't the only tool the Twin Interiors team utilized. Changing the dining room light fixture brought a much-needed playfulness to the table. They added sconces above the living room alcoves and a massive circular light fixture in the kitchen. Norton also retextured the walls, which significantly softened the atmosphere.
In the kitchen and breakfast nook, the changes were a little more subtle but no less impactful. They switched out the countertops and removed the square tiled backsplash. And the new black hardware matches the updated sink faucet and appliances.
It was a smart call to keep the custom-built cabinets where they were, just refinishing them in a neutral warm shade. While most of the design is cool, the cabinets provide a touch of warmth. It delicately balanced out the stark white used in the rest of the kitchen. Meanwhile, the breakfast nook adopted the Agreeable Gray and got an updated light fixture, too. Norton upcycled the formal chairs with a custom slip.
Most people would take one look at an overdone Tuscan theme and run the other way. But the key element for Norton was potential. You'd be surprised at how many elements this older style shares with the modern minimalist concepts of today.
Norton's work proves that you don't necessarily have to start from scratch. You can repurpose materials like iron and wood or emphasize built-in character like the alcoves. The home of your dreams might be the home you're in—you just need to spend time uncovering its personality.
Norton saw far too many home-buyers giving up too quickly on dated homes with that kind of potential. As a long-time, successful real estate agent, she felt constricted. Clients were asking for move-in-ready dream homes—two traits that don't typically pair well. But what if the idea of "move-in ready" was stopping buyers from landing on their perfect listing? That burning question pushed Norton to pursue her passion for interior design.
She realized she could bridge the gap between buying a house and settling into a home for her clients. With a budget of less than $20k, Norton and her team proved that a complete transformation isn't just possible; it's completely doable for the typical homeowner.
Norton studied interior design at the New York School of Design. She has a passion for traveling and often weaves elements from her travels around the world into her unique and refreshing arrangements.
This sophisticated oasis beckons with its modernized, youthful style. And, unlike its previous design, it's a concept that can easily adjust for changing tastes down the line. In short, it's a style that can honor the family that calls it home.
For more design inspiration, check out more of Lourdes Norton's full-service projects and expert styling solutions at twininteriors.com.
Looking for a great opportunity to punch up an event with something interactive?
Twin Interiors still has limited availability in Q4 and Q1 to host a private interior design workshop at your Austin-area event.
###
TWIN REALTY & INTERIORS
Established in 2010, Twin Realty Group is a leading boutique real estate firm under the Compass umbrella. They specialize in buying and selling residential properties throughout the Austin Area. In 2022, Twin Interiors was born from the observation that far too many home-buyers were frustrated with a tough housing market, available inventory, and needed help seeing the true potential of dated homes. As a long-time, successful real estate agent, Lourdes Norton, founder of Twin Realty Group, felt constricted. She realized she could bridge the gap between "buying a house" and "creating a home" that supports her clients' various lifestyles in an aesthetically pleasing way. Today, Twin Realty & Interiors work side by side to deliver curated homes that are warm and functional while reflecting a client's personality and style.
For more information, please visit twinrealtyandinteriors.com
LOURDES NORTON
Lourdes Norton is the owner and founder of Twin Realty and Interiors, a leading boutique real estate & design firm in Central Texas. With 12 years of residential real estate sales and 10 years of corporate experience in sales, marketing and project management under her belt, Lourdes decided to pursue her passion for interior design, founding Twin Interiors as a separate division of her existing business, Twin Realty Group. Lourdes is gifted at seeing the potential in interiors that meet her clients' functional needs and aesthetic desires, sometimes even before they do. Under Lourdes' leadership, the Twin companies have built a community based on trust and flawless execution where clients know they can count on flawless delivery of their dream homes as well as being a resource for life.
For more home and design inspiration, check out more of Lourdes Norton's full-service projects and services at twinrealtyandinteriors.com