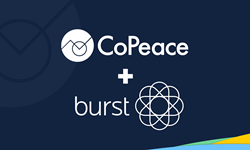 "We love the fact Burst content is designed to teach, heal, humanize, and inspire. Our shared history in sports is an added bonus and elevates this partnership to a unique level moving forward."
DENVER (PRWEB) December 02, 2022
CoPeace, an impact investing and services company, announced today a strategic partnership with media technology company Burst. The new partnership will allow CoPeace to team with Burst and use Burst media technology to help generate and disseminate socially-impactful media content.
Burst uses its patented technology to create rights-controlled visual user-generated content (UGC) for media companies, live event venues, and corporate brands. The company's platform enables consumers to submit video -- without an app download -- to media companies where it is digested by AI, fully processed, and on air, all within two minutes. The Burst platform effectively and efficiently navigates the final steps between the cloud and traditional television.
"We are excited about our new partnership with CoPeace, whose mission aligns perfectly with ours," said Bryant McBride, Burst's CEO. "Allies like CoPeace help us amplify our efforts to share important stories that fill the holes in the American narrative. We look forward to working closely with the CoPeace team to drive revenue while also driving positive social change."
This new strategic partnership has a built-in synergy. Several CoPeace and Burst executives have worked together in the past on innovative sports-based projects that are still relevant today, including the underlying technology used in the virtual yellow first down line in football, as well as other broadcast enhancements.
"Working with Bryant and the Burst team fits our mission in every way as we build stakeholder value by helping impactful companies grow," said Craig Jonas, CoPeace founder and CEO. "We love the fact Burst content is designed to teach, heal, humanize, and inspire. Our shared history in sports is an added bonus and elevates this partnership to a unique level moving forward."
Burst and CoPeace are also teaming up on a major sports-based diversity and inclusion project in the near future. Formal announcement is forthcoming.
Burst is the 8th holding in the CoPeace impact portfolio. The agreement calls for CoPeace to provide a variety of business services to Burst and includes an investment component.
# # #
About CoPeace
CoPeace helps impactful companies grow. As an impact-driven holding company, CoPeace is building a portfolio of carefully selected businesses with measurable social and environmental impact. Additionally, CoPeace provides a variety of consulting services to organizations demonstrating positive social or environmental impact.
As a fully certified B Corp and public-benefit corporation (PBC), CoPeace is committed to acting morally, ethically, and responsibly in regard to society and the environment. Equity, inclusion, and justice are not just valued at CoPeace – they are pillars supporting our mission.
To learn more, visit https://www.copeace.com
About Burst
Burst is a leading provider of user-generated content (UGC) solutions for media companies, broadcasters and for the enterprise. Burst's technology is used by hundreds of customers every day, engaging audiences to create compelling UGC in a way that does not require an app download or dependence on social media.
Burst is using its technology to produce a full slate of mid-to-long form video productions - all with a purpose-filled, diversity, equity and inclusion theme. Burst's mission is to leverage its platform to tell stories that teach, heal, humanize and inspire all people.
To learn more, visit https://www.burst.com