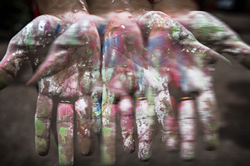 "We genuinely care about students and created Otentu to help them grow, succeed and scale," says Lior Arussy, Otentu Founder.
NEW YORK (PRWEB) December 07, 2022
Otentu, a new discovery marketplace empowering top art and design students and recent graduates to sell their homework as pieces of art, announces the first series of limited-edition collections featuring four captivating photography and graphic design prints. Each student that lists their creations on the hybrid development platform is awarded the incredible opportunity to develop their own brand funded by Otentu.
"We genuinely care about students and created Otentu to help them grow, succeed and scale," says Lior Arussy, Otentu Founder. "Student homework creations deserve to be seen as the pieces of the art that they are. We believe so much in student creations that Otentu also serves as an incubator for personal brands, and we are excited to introduce our first limited-edition collections."
Three promising talents, a social worker photographer from Paris College of Art, artist and anthropologist from Paris College of Art, and graphic designer and illustrator from Cleveland Institute of Art, are the first student artists chosen to produce collections.
Porus Jain from Paris College of Art: With a keen interest in developing a practice that benefits those he photographs, Porus Jain is a photographer and social worker whose main subject matter revolves around photographing those communities that have become invisible to the global population due to socio-political structures and economic standing. Porus gives back to each subject of his work belonging to a minority community with compensation such as cash, subsidies, clothes, living amenities, healthcare products, and more depending upon the need of the person.
"Seeking Hands: An artist's inability to create due to trauma." The inability of a painter to put down a single stroke of paint after experiencing personal trauma for three years that made him homeless. The tremors of the hand due to even the thought of a life that once was. Stacked images give the viewer an experience of not just a painter's hands but also the trauma that follows, in a way attempting to allow the viewer to enter the mind of the artist. Retails for $400.
Alicia Gonzalez Ramirez from Paris College of Art: With academic training as an artist and anthropologist, Alicia's work is based on the idea that our cultural environment defines our approach to the world and, therefore, informs our artistic practice. Due to its versatility and physicality, drawing became the ideal medium to approach her research on how our body relates to the environment. She naturally combines conventional work tools such as paper, graphite, or charcoal with more current ones such as video or audio.
Transmutations. Body experiments "Therianthropy #3" Alicia was exploring her physical relation to elements that are part of her daily life such as graphite, carving, etching, personal sketches, and found objects around the studio. All of them were layers that, by working manually with the printer, started to interact with her skin in their own ways. Using her skin as the background for those interactions, those elements started becoming layers that would fix themselves on the body in their own particular way, until becoming one.
Teagan Ferraby from Cleveland Institute of Art: A Graphic Designer, Illustrator, Printmaker, and Painter, Teagan creates artwork ranging from children's book covers to sea-life paintings. Her personal work explores the beauty of nature, especially that which is found underwater, while professionally she focuses on creating designs that are eco-conscious.
Azure Coral Sponge: Featuring a shimmering coral, this screenprint represents the memory of diving and the joy of exploring the ocean. Inspired by a photo Teagan took while diving off the coast of Roatán Honduras, the coral gives off a luminescence, shimmering in the water in a rainbow of colors. It often stands out against dark and muted backgrounds. Teagan lowered the amount of yellow in the CMYK process to further emulate how the underwater world is seen while diving, due to the human eye being unable to see the color red as you descend deeper.
Donut Coral: An abstract illustration and bitmap created from a photo Teagan took while scuba diving. The configuration of this coral drew her in, enjoying the textures and small details. The screenprint shows off these elements while also using illustration to better define the form with thick and thin lines outlining the piece. Looking deeper into this artwork, it shows life forms that are all part of one organism being separated by an outside source. It remains connected, while creating a higher focus on the individual and yet somehow still showing strength of community.
Prices range from $195-$275. To shop on Otentu or become a creator visit http://www.otentu.com
About Otentu
Otentu is a first of its kind discovery marketplace and development platform connecting art and design students and graduates with premium, global customers looking to support and discover new talent. Democratizing the art world, Otentu fosters the growth of students and their careers. Otentu empowers both the curators and the creators to express individuality and to be inspired. For more visit http://www.otentu.com