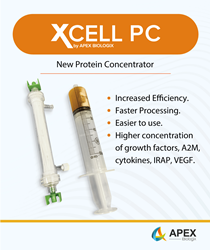 APEX is proud to be able to continue to be the one source for high-quality autologous biologic products.
WOODS CROSS, Utah (PRWEB) December 02, 2022
APEX Biologix, a leader in innovative biologic medicine, announced their exclusive industry-leading XCELL PC (Protein Concentrator) Kit, now available for purchase. Utilizing components of platelet-poor plasma has become one of the fastest growing segments of regenerative medicine. The advanced features of the XCELL PC kit allow for increased concentration of a variety of beneficial proteins, with easier use and reduced processing time compared to earlier generation blood and plasma filters on the market.
Through this innovative design, significant increases are attainable in the retention of platelet-derived growth factors, A2M (Alpha 2 Macroglobulin), IRAP, fibrinogen, and other cytokines, all of which have demonstrated beneficial in reduction of inflammation and pain and/or the suppression of joint degeneration by inactivation of destructive enzymes.
"With nearly 30 million Americans suffering from osteoarthritis, physicians desperately need tools to promote healing and reverse painful degeneration. We are excited to announce the launch of the XCELL Protein Concentration filter with its revolutionary design to maximize recovery of a wide range of proteins found in plasma. APEX is proud to be able to continue to be the one source for high-quality autologous biologic products." - Troy Openshaw, President
The new XCELL PC filter includes preassembled connectors and caps, which ensure increased sterility while improving convenience. With a patented new membrane material, a larger range of protein (based on their size) can be recovered during processing. This new filter also removes more water, resulting in a customizable concentration and final product volumes. Additionally, the new XCELL PC is manufactured in a "primed" configuration, which significantly increases recoverable volume, thereby minimizing loss of proteins that would otherwise be bound to the membrane filter.
APEX strives to continuously improve products for physicians and has become the market leader in regenerative medicine. For more information on their products and how their biologic innovations are impacting patients and improving quality of life, visit apexbiologix.com or message info@apexbiologix.com.
About APEX Biologix
APEX Biologix is an emerging industry leader in orthobiologics. The company is dedicated to the science and research of innovative biologic medicine and its potential, while supplying physicians with the best products and education available to treat their patients and improve quality of life.
Media Contact:
Sean Woodward
844-897-4910
info@apexbiologix.com